Legal Online Lottery in India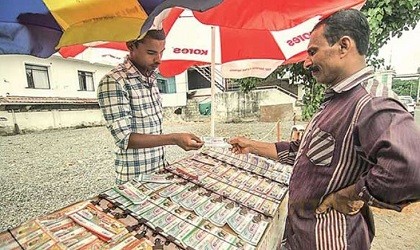 Wondering if playing the international lottery in India is legal? For 13 Indian states it is, and because of the absence of national restrictions, you can even enjoy International lotteries online. Alongside, online websites have made the situation even more convenient, letting players buy and wager on the legal online lottery in India whenever they wish.
The first lottos has been in the country since the time of the Vedic period. Back then, players engaged in it, staking precious metals, land, houses, and even slaves. Different forms of this game came into the ground with British people.
However, in 1967, the Kerala authority replaced private lotteries with a state one. And in 2015, the Supreme Court of India authorized it to the state government.
Going through this article would be a convenient way of having insights into the rules and processes of lotto betting in each of these 13 states. You will also recognize whether playing internationally is held unlawful in the country or not with answers to a few critical questions.
States in India Where Lotto Game is Allowed
When the rest of the country keeps prohibitions on lotteries, 13 states have saved popular games. At the same time, certain dissimilarities are also apparent in the regulations of these regions.
Arunachal Pradesh
The format by which the Arunachal Pradesh lotto runs for players, which created the foundation of the legal lottery in India. Two different draws happen in Arunachal Pradesh every day. And, any player from the permissible 18 years old age can buy tickets to partake in them. The first draw is called Zodiac Signs, while the second one comprises costly metals and stones and is called Singam Peak, Volcano, Stack, Cliff, Heap and Pinnacle.
Assam
The land of mountains and rivers, Assam, allows players to play legal online lottery in India. Assam Government created an official website for this game. The site is Bodoland Lotteries and provides two draws daily for the players. Assam's law doesn't mention online lotto betting. Hence, because of this absence in the 1998 Act, players can enjoy it online.
Goa
The lottery is legal in India, mostly, but in Goa, it gets a bit more exciting as players can entice themselves with three different daily draws. Alongside, the official authority of the region offers several exceptional bumper draws. The results of these draws are available through various websites and applications. Besides, licensed distributors can also sell tickets offline according to Goa Lotteries Rules, 2003.
Kerala
The Kerala authority keeps its legitimate betting approach unique by running seven different legal online lotteries on Indian platforms simultaneously. Each forum brings one draw in a week. Hence, betting on the game is possible every day. Apart from these, the locally governed lotto offers unique bumper draws in four seasonal ceremonies, naming Onam, Vishnu, Dussehra, and Christmas.
Madhya Pradesh
The state arrives at the sixth position where legal online lottery in India is present. In 1993, lotto game betting in Madhya Pradesh was not allowed. But, in 1998, the Lotteries Regulation Act was passed to re-sanction it. Registered offline shops that sell tickets are known places in Madhya Pradesh, and online lotto gambling is also possible.
Maharashtra
The state administrative allows regionally regulated gambling based on the Lottery Act of 1998 as well. Only the government and authorized entities can print and sell tickets lawfully in Maharashtra. The laws don't mention online gambling, as most of them are conducted outside of the country. Players can have thrill wagering on the legal online lottery in India.
Manipur
Since the Act of 1998 was passed, the lotto has been authorized in Manipur. The local lottery keeps three draws every day with a maximum prize of 6 Lakhs rupees. At the same time international lotteries are available online for all people who live in Manipur state, The winning amount for all the draws starts from 500 rupees. There is no state rule for online legal lottery in India, but you can enjoy international ones online.
Meghalaya
From under Meghalaya Lottery (Regulation) Rules, 2019, the state runs regionally regulated opportunities. Players can wager their money on any of the seven legal lotteries in India draws conducted by the responsible authority daily. For eyeing the result, players have to check the official website. But, they can purchase tickets offline through registered lotto offices and kiosks.
Mizoram
The Mizoram administration allowed lotto betting in 2010, and it also differs from the Kerala betting format with a lower maximum prize and cheaper ticket prices. Every day at 3 p.m. try your luck with Silver 10, Roja 30, Swan 20, Diamond 15, Diamond 100, and Gold 50. Online lottery tickets in Mizoram and India overall are legal for international providers since there's nothing firmly written against them.
Nagaland
Within a few times after the validation of this game in Kerala, Nagaland legitimated it as well. Besides, Nagaland is considered the first state to bring the law on a lottery in India legal. The main reason behind allowing these facilities is generating revenue. Offering bumper lotto on special occasions, Nagaland authority has named the daily draws after a variety of birds like falcon, vulture, parrot, flamingo, hawk, and more.
Punjab
Curious about which state lottery is legal in India? Punjab permitted such operations long ago in 1968 and should come on the list. The state-regulated lotto game tickets are available through the internet as Punjab advocates legal online lottery in India. Exciting bumpers on special days are also drawn in this game.
Sikkim
The lottery of Sikkim State is considered the largest in India. Lottery draws happen every day and attract millions of players. This state was one of the first who allow online gambling. Through the app named PlayWin, online tickets are available for purchase.
West Bengal
It is yet another state to adapt to the real lottery in India. West Bengal started vending tickets through an online platform called Lottery Sambad. It became quite famous among the gamblers after its appearance. The convenience it provides, enabling players to purchase tickets by phone, should be something for every other state to learn.
Ban On Lotteries Across the County. Is the Ban Effective?
It should be mentioned first that the Indian authority on lotto gambling has enforced neither any central regulation nor any ban. However, the same responsibility has been handed to the regional governments.
At this point, Indian states allow regulated draws within their territory, while for the rest of the country, indulging in such practices is prohibited for everyone. However, players from India can enjoy online gaming conducted outside of the India. India has no government prohibition of online gambling and international lotteries.
FAQs
Is it safe to play a lottery game online?
International lotteries are not illegal in India and online gaming is safe, because the providers have official Gambling licenses. Also there were no cases when one of the players did not receive a prize. You will not find reviews on the Internet, where players complain that they have not been paid their winnings.
In which states online lotteries are legal in India?
In 13 Indian states, namely Arunachal Pradesh, Assam, Goa, Kerala, Madhya Pradesh, Maharashtra, Manipur, Meghalaya, Mizoram, Nagaland, Punjab, Sikkim, and West Bengal, players can wager on regionally governed lotto betting. However, international online lottery tickets in India legal as well.
Can I buy lottery tickets online from another state in India?
You can buy an online ticket from another state only if the region you reside in permits the lotto game.