El Gordo Lottery
The El Gordo lottery dates back into January 1993. At the time, the price of a ticket was only 500 pesetas (3 euros). The very first winner was based in Córdoba.
There are two lotteries in Spain with similar names, and it is easy to get them confused. The El Gordo de Navidad lottery was started in 1812. It is celebrated annually on December 22. It is celebrated near Christmas and Translates to The Fat One of Christmas. Therefore, it has a lot of cultural significance regarding Spain.
The lottery described in this article happens weekly. It is one of the most established lottos. During July 2011, it gained a spot in the world records book! This is because it had 56 rollovers and reached €33 million for a jackpot. Globally, it is a game of high popularity
El Gordo de la Primitiva is known as The Primitive Fat Man's Lottery. This lotto is known for its unique Numero Clave and many jackpot offerings, which we will discuss further in the article. Additionally, under certain game conditions, there are refunds for the ticket price.
Overall, it plays a significant role in Spain's culture. For example, the lotteries in Spain make up more than 3 percent of Spain's income every year!
Let's dive in and discuss the rules, winning odds, and details on how to play the El Gordo de Primitiva Lottery!
How to play El Gordo Spain
Playing this Lottery online is extremely easy and efficient. You do not have to be located in Spain to enter this lottery. You are able to enter from anywhere in the world. This could be virtually on your laptop or also from your phone!
To play, players will choose 5 numbers from a range of 1-54. These five numbers are all guessed numbers. They will also guess a Numero Clave number between 0-9. From Spanish to English, Numero Clave translates to Key number. The Numero Clave is essential because it is necessary to win the jackpot. Additionally, it is connected to five other secondary prizes.
There are a few ways to select numbers. Players can choose a group of either 3 or 6 lines. Additionally, players can select something called a systematic form, which is 7,8,9 or 10 numbers. A systematic form is a trendy option between players because essentially, it contains all potential combinations of the chosen numbers, and heightens chances for players to win a prize. Players also have the option for selecting their numbers manually. They can also choose Quick Pick, an automatic selection system that randomly selects numbers.
Rules
Prizes that are worth more than €40,00 will be taxed up to 20 percent.
Prizes must be claimed within 90 days of the drawing.
All players must be 18 or older to purchase lottery tickets
Although a player can have multiple bets, they can only win one prize per bet.
The drawing starts by randomly drawing five numbers 1-54. Then, 0-9 is drawn.
There are a total of 8 prize categories.
If a player has a ticket with a key number that matches the key number drawn, they will receive a refund for the amount that is played.
Drawing takes place on 21:30 every Sunday.
Winning Odds
| | |
| --- | --- |
| PRIZE | WINNING PROBABILITY |
| 1st Prize | 1:31,625,100 |
| 2nd Prize | 1:3,513,900 |
| 3rd Prize | 1:129,082 |
| 4th Prize | 1:14,342 |
| 5th Prize | 1:2,689 |
| 6th Prize | 1:299 |
| 7th Prize | 1:172 |
| 8th Prize | 1:19 |
| 9th Prize | 1:10 |
Playing El Gordo online
You do not have to be located in Spain to play El Gordo de la Primitiva. You can purchase tickets online. Follow these steps if you'd like to play this lotto online.
Go to a site that offers you to play El Gordo virtually, such as TheLotter, Lottoland, Lotto247, and Playhugelottos.
Select the number of tickets you want to buy.
Choose your numbers to play.
Input personal data so if you win to ensure you can be adequately contacted.
Confirm your purchase and pay via credit or debit card.
Wait for the El Gordo draw to take place.
Check your results on the website lottothrill.com, under the tab «El Gordo».
How to Play El Gordo in India
To play online in India, the rules are the same as purchasing a ticket from anywhere else in the world. Therefore, you can still participate in El Gordo de la Primitiva and many other lotteries from India. So, virtually purchase a ticket.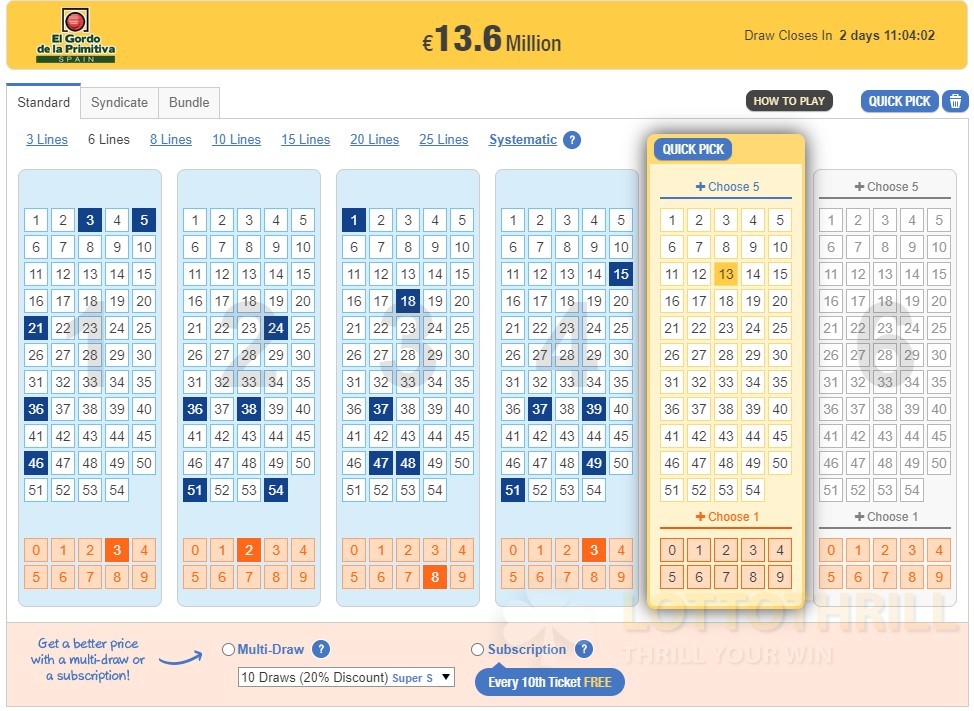 Ultimately, the easiest way to play the El Gordo de la Primitiva Lottery from India is online. The rules for purchasing a ticket online are the same as the above rules. Make sure to check your results on the website lottothrill.com, under the tab El Gordo.
According to the Finance Act of 1986 and the Income Tax Act in India, the tax rate for lottery winnings is a flat rate of 30 percent. The reason the tax rate for lottery winnings is higher in India is because of the importance that lottery winnings have on the economy. The money from this tax goes back to improving education and health care in India.
Playing El Gordo on a cellular device
Playing on a cellular device gives you another method to play, all from the convenience of your phone. To do so, download The Lotter's app. Once you download the app, enter your information just as you would on a website. You will be able to check all of your information on the app and be notified through the app if you win as well.
Playing in person
Playing El Gordo in person is just for residents of Spain. If you are located in Spain, after you purchase your ticket, please keep your ticket in a safe place. Please be careful to keep your lottery ticket. To claim your prize, it will be mandatory to show officials your ticket.
How to claim the prize
If your ticket is the lucky winner, congratulations! You should be contacted from the location where you purchased your ticket. You can contact the lottery officials and claim your prize also. Additionally, go to visit the official website and input your information in the checker to see if you have won. Prizes expire in 90 days, so claim your prize as soon as possible.
Where to go for more information
For more information, go to Loteriasyapuestas es. This website is the official website for the El Gordo de la Primitiva Lottery. It has details on results, statistics, prizes, and a winning checker. It is also imperative to check the website you purchased your tickets from to retrieve and claim your winnings properly.
Overall, El Gordo de la Primitiva Lottery is one of Spain's most exciting lottery events, with exciting prizes. It remains a cultural staple of Spain, and now players from across the world can participate in the fun as well. This is an immensely interactive and exciting game you can try, and luckily the earnings are good too.