Australian Lotteries
Australian lottery is known for the big wins, vast choices, and enthusiastic players. Ever since the Australian national lottery was introduced in 1994, it has been changing lives and making dreams come true.
Open to a lot of people, many players, including Indians, enjoy playing their favourite jackpots and Australian lottery. There is a wide variety to choose from, like the Set For Life, which guarantees $20,000 per month, to more enormous jackpots worth millions of dollars.
This article discusses the popular choices in the Australian lotto, ticket costs, and prizes.
Popular Australian Lotteries
If you are wondering, "What is the best lottery to play in Australia", look no further. These are some of the best lotteries Australia offers.
1.    TattsLotto
TattsLotto gives you an incredible chance to take home huge wins. There is a division 1 prize pool of up to approximately A$5 million. This is one of the main Saturday draws in Australia.
TattsLotto is run by Tatts Group Limited, a privately owned organisation. They have multiple operators in each region under a single mega-brand named The Lott.
How Its Played
Every Saturday night, six main numbers are pulled out of a barrel of 45 numbers. There are two additional numbers as well. There is a decent chance of winning, at 1 in 85. The cost to play is as low as $3.30 for 4 games. Players can choose from a Marked entry, QuickPick, System, or a Pick entry. With six winning divisions, winning is as simple as three matching numbers.
Prize
Prizes range from $4 million each week between winners to the $20 million Superdraws 6 to 7 times a year. The record so far is A$30 million.
2.    Oz Lotto
Oz lottery is drawn every Tuesday, with an overall chance of winning at 1 in 55. The potential to win tens of millions of dollars makes it among the best game of chance in Australia.
Introduced in 1994, Oz Lotto is Australia's first international game. It is administered by Tattersall and played on Tuesday nights.
How Its Played
Oz Lotto has seven numbers drawn out of a barrel of 45. It happens every Tuesday night and has good odds of winning. It has 7 prize divisions. Tickets cost $1.20 per game.
Prize
The minimum division is a prize pool of $2 million. The largest jackpot hit was for A$111 million in 2012, divided among four winners. One of the ways to play Oz Lotto from India is Lottosmile website.
3.    OZ Powerball
Oz Powerball is not a new jackpot, especially for those familiar with USA lotteries. Like many countries, Powerball is Australia's largest jackpot lottery. Modelled on USA's Powerball, Tattersall manages the game. It is syndicated throughout Australia and is a top-rated game.
The game has been popular in Australia ever since it was introduced in 1996. The draws take place on Thursday nights and are run by Tattersall.
How Its Played
Seven balls are drawn from a barrel of 35 balls and one Powerball from a barrel of 20. The probability of winning a prize is 1 in 44, which is considerably good odds. Each game costs $0.10, Along with agent's fees. Many states require that the game be purchased 4 at once.
Prize
The largest-ever jackpot prize was A$110 million in July 2019. The winners each got A$36 million.
4.    Monday and Wednesday Lotto
Monday and Wednesday Lotto is commonly known as X Lotto in South Australia. The first draw was in 1979, and it now offers progressive prize pools.
This popular lotto offers you a chance to be a millionaire. A division of 1 prize of A$1 million is up for grabs for a maximum of 4 players. Events like Double your Win and Cashcade Celebrations definitely add some spice to this fun lotto.
How Its Played
Six main and two supplementary numbers are chosen from a barrel of 45 numbers. You can play 4 games for $2.40. Players can choose from a number of ways to play, including standard entries like
Or system and pick entries like:
Prize
$1 million for a maximum of 4 players is the standard prize., Also, special events give you a chance to increase the amount you win.
5.    Set For Life
Australia's newest lotto is Set for Life. Announced in 2015, the game has quickly gained popularity, acting as a form of an everyday dream for people.
This game of chance is a great way to test your luck. It is drawn daily and involves 8 winning divisions. You can buy them in-store or online, and 2 games for 7 draws over 7 draws cost a nominal $9.30.
How Its Played
Players choose 7 numbers from 1 to 44, and wait for results, announced at 9:00 pm AEST. You can opt for marked entries or quick picks.
Prize
Set For Life is quite different in how it rewards the winners. Instead of giving away the prize money in lump sums, winners get A$20k every month. This lasts for 20 years. This game is a copy of USA Cash4Life lotto.
6.    Lucky Lottos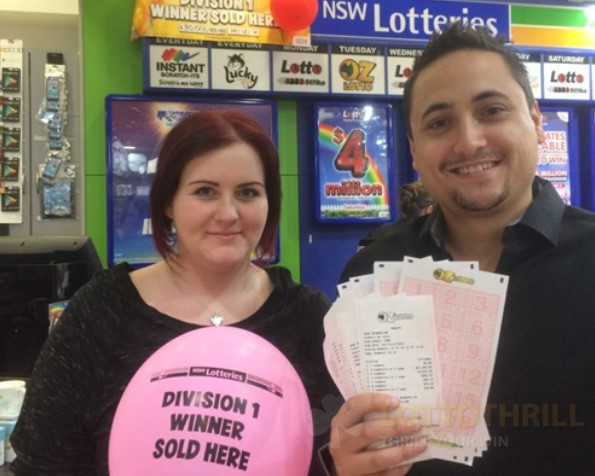 ucky lottos is a relatively new lottery managed by Tattersalls. It currently covers Super Jackpot and Mega Jackpot, both available in Tattersalls jurisdiction since 2015.
Tickets for these lottos are sold at NSW Lotteries offices. Each number is unique, so there is no sharing of prizes, unlike other games of chance. This makes it all the more attractive.
How Its Played
Tickets are auto-picked by a system. Players buying less than 10 tickets can have random numbers selected. Super Jackpot draws happen daily in the morning. Mega Jackpot draws occur every few weeks. Tickets can be purchased for up to 10 draws for Super Jackpot in advance. The same can be done for 2 draws in advance for Mega Jackpot.
Prize
The record prize for the Mega jackpot was A$96.04 million in 2019. The Super Jackpot has a guaranteed first prize of A$100,000, while for Mega Jackpot, it is A$200,000.
7.    Super 66
Super 66 is a lotto Australia enjoys. It is played in all states except New South Wales.
Produced by Tattersall, Super 66 was initially offered only in conjunction with other lotteries. It recently became a standalone game. A ticket is bought for $1.10 per game.
How Its Played
Players buy computer-generated entries. Some states do allow players to record their preferred numbers. Draws occur on Saturday nights, and players match the first or last digits. There is a 1 in 50 chance of winning one of 6 divisions.
Prize
The first division prize is a minimum jackpot of A$16,666.
Here is a summary table to compare Australia's best lotteries.
| | | | | |
| --- | --- | --- | --- | --- |
| Lottery | Cost of ticket(A$) | Odds of winning | Min Jackpot (A$) | Draws(AEST) |
| TattsLotto | 0.60 per game | 1 in 85 for winning any division. | 4 million | 6:00pm Saturdays |
| Oz Lotto | 1.20 per game | 1 in 55 for winning any division. | 2 million | 6:00pm Tuesdays |
| Powerball | 1.10 | 1 in 44 for any prize | 3 million | 6:00pm Thursdays |
| Monday and Wednesday | 0.55 per game | 1 in 8,145,060. | 1 million for each winner for up to four winners | 7:30pm Mondays and Wednesdays |
| Set For Life | 9.30. | 1 in 38,608,020 for jackpot to 1 in 89 for 8th prize | 19,200,000 among winners monthly | 7:00pm daily |
| Lucky Lotteries | 2 and 5 | 1 in 23.03 for any prize | 100,000 | As tickets are sold out |
| Super 66 | 1.10 | 1 in 50 for winning any division | 16,666 | 6:00pm Saturdays |
Play Australian Lottos from India
Australian lottery can be played internationally. Players from India can access their favourite lottery from sites like Lottoland and Lotto247. When it comes to lottery odds, Australia offers great chances to change your life.
In addition to these, Indian players can also access other international lotteries like Mega Millions, Eurojackpot lotto, and SuperEnalotto from these sites. All you have to do is register on the site and pick your numbers. An agent will procure the ticket on your behalf.
You can check the Australia lottery result or any result on the official website.
Australian games of chance are well regulated by the Lotteries Commission of South Australia, making them wholly legitimate and secure.
You can choose to pay with Visa, MasterCard, or any of the multiple payment options available.
Tax on Lottery Winnings in Australia
Tax on the lottery usually varies based on local laws. Most of them in Australia are tax-free. This means that what you win is what you get. The gambling operators pay tax, not the winners. Winners are required to fill out a prize claim form. This has to be sent to the authorities to get the prize. Until then, one has to hold on to the ticket.
Money is sent electronically to the winners. It might take up to 24 hours for the funds to land.
Australian lottery is a great way to try your luck. You can purchase tickets online while potentially changing your life forever. Make sure to keep your eyes open for the result. You might be contacted 30 minutes after the winning ticket is drawn. However, in case the details are not registered, you need to reach the authorities.