TheLotter
Nowadays, more and more people are taking part in the growing market of global lotteries, thanks to online platforms. Among them is TheLotter, which allows players from India to easily play in lotteries from across the world. With great security and huge jackpots, it could prove to be life-changing for you!
In this review, we'll tell you everything you need to know about LottoSmile.
TheLotter Review
Developed by the house of TheLotter, LottoSmile is an online lottery website exclusively for players from India. The platform is licensed in Malta, specifically under the Malta Gaming Authority (MGA), which means that all its activities are completely legitimate and in full compliance with the relevant laws.
TheLotter has been around since 2002; however, LottoSmile India was only released in 2020. The online platform is enjoyed by thousands of players across the country, thanks to its large volume of available games and massive jackpots.
In fact, TheLotter has paid more than five million players over $90 million as part of their take-home winnings. And now, you could be one of them too!
Besides legitimacy, TheLotter also provides players with excellent customer service. Their teams of support agents are present in 20 different countries around the world, ensuring that all your inquiries are answered promptly. They also have several loyalty programs, giving their most prolific players access to exclusive discounts and more.
Is Thelotter (LottoSmile) Legal in India?
Each state in India has different laws regarding the lottery but basically, only players from Punjab, West Bengal, Goa, Maharashtra, Kerala, Sikkim, Madhya Pradesh, Assam, Meghalaya, Arunachal Pradesh, Manipur, Mizoram, and Nagaland are allowed to legally take part in lotteries.
However, it's important to note that it isn't illegal to use a foreign lottery provider, such as LottoSmile. This means that you're free to play to your heart's content on the platform, choosing from their more than 50 options of global lotteries.
TheLotter also takes no commission from a player's winnings. This, combined with its minimal service fees and excellent customer support, makes LottoSmile the best option if you want to take part in lotteries from across the globe.
Lottery Games
LottoSmile India offers players a wide variety of lottery games to choose from. Here are some of their most popular ones: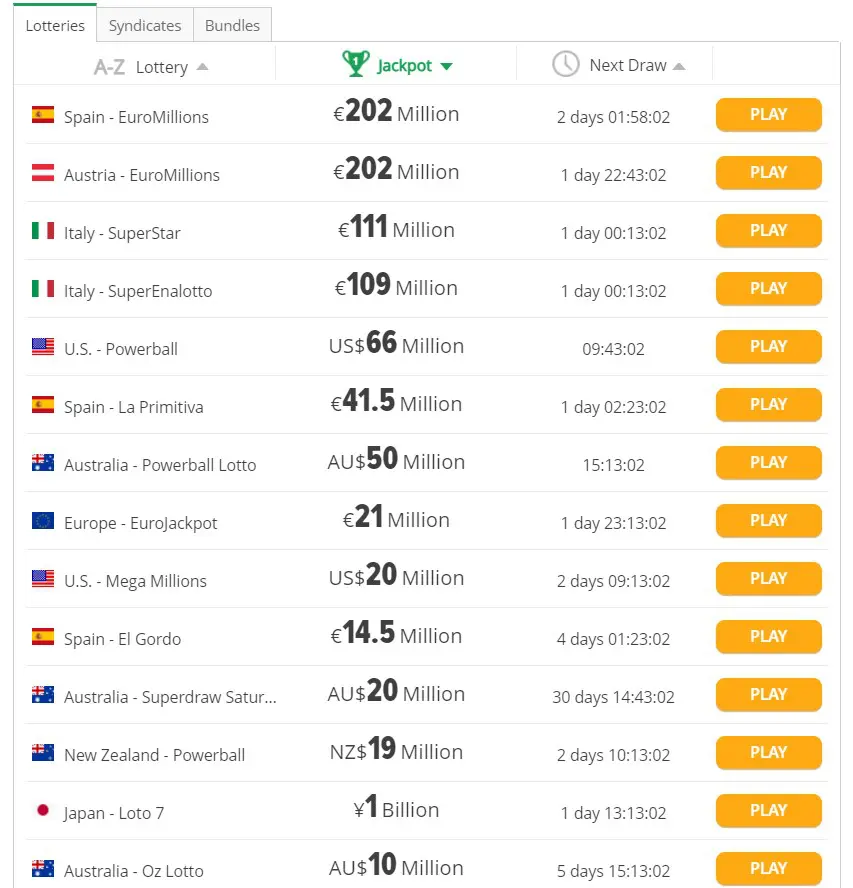 With over 50 lotteries to choose from, you are in for a treat with LottoSmile's lottery options. Here are some of the most popular international lottery games.
PowerBall
A lottery game that has been drawing American crowds for decades, PowerBall is your best bet if you want a chance to win millions of dollars. Its draws take place twice a week – particularly, every Thursday and Sunday morning in India. To play PowerBall, all you have to do is pick five different numbers from 1 to 69, as well as a PowerBall number between 1 and 26. Each ticket costs Rs. 300 and could potentially earn you millions.
EuroMillions
This European lottery game is enjoyed by millions of players from across the world. Playing in it involves picking five numbers from 1 to 50 and two-star numbers between 1 to 12. To win the jackpot, your fifth and second numbers must match the draw. Draws are made every Thursday and Friday. The LottoSmile ticket price for the EuroMillions costs Rs. 240. With this measly sum, you can win as much as up to Rs. 150 Crores.
MegaMillions
Another popular lottery game in the United States, MegaMillions pays out huge cash prizes, giving you the chance to live the American dream. To play, all you have to do is pick five different numbers from 1 to 70, as well as one Mega Ball number between 1 and 25. Jackpots of up to Rs. 10,900 Crores have been paid out before, making it one of the most lucrative lottery games in the world. Its draws are made every Wednesday and Saturday.
Besides these three, TheLotter also gives players access to the Spanish lottery, El Gordo, and the German lottery 6aus49.
How Can I Play on
TheLotter

India?

LottoSmile India has a wide variety of playing methods to choose from, which means that there will be one to suit your needs and preferences. Here's a brief overview of each one?
Single-Game Lottery
As its name suggests, this involves purchasing as many or as few tickets as you want to your international lottery of choice. You'll shoulder the entire cost of the order; however, you'll also get to keep all your winnings to yourself.
Lottery Syndicates
Every lottery player wants to increase their chances of taking home the jackpot and LottoSmile India allows them to do just that with its syndicates. This involves a group of people who purchase as many lottery tickets as they want. The cost of the tickets and the rewards, if any, are divided among all members.
Forming a syndicate by yourself can be tough but luckily, LottoSmile India makes it easy to do so. Not only does it automatically add you to an open group, but it also handles the purchase of the tickets and the distribution of the winnings.
Lottery Bundles
Do you want to give yourself an advantage by purchasing two different kinds of tickets? Then, you can opt for a bundle.
A bundle enables you to combine your shares in a syndicate with your personal tickets. This is particularly useful if you have a set of lucky numbers that you'd rather not share with other people.
Since you now have a mix of syndicate shares and tickets with your set of lucky numbers, your chances of winning the jackpot are increased even more.
Lottery Subscriptions
If you want to keep playing your favorite lottery without having to go through the entire ticket purchasing process over and over again, then it would be best if you opt for a subscription. This will allow you to automatically play your lucky numbers every consecutive draw until you cancel.
Lottery Multi-Draws
A Multi-Draw package not only enables you to purchase tickets in advance but also gives a discount of up to 25% on the entire cost of your order. Needless to say, players who want to save money or are sticking to a tight budget prefer this playing method. This is available for single-game entries, bundles, and subscriptions.
What Can I Play on
TheLotter

India?

Thanks to TheLotter, players can choose among 50 global lotteries. Here are ten of the most popular ones:
Lottery
Line Price
Syndicates
Bundles
PowerBall
Rs. 300 / Line

500 Lines

Rs. 1,065

Deluxe (200 Lines)

Rs. 1,200

Premium (265 Lines)

Rs. 2,000

Extra (765 Lines)

Rs. 3,000

EuroMillions
Rs. 240 / Line

1,000 Lines




Rs. 1,500

Classic (650 Lines)

Rs. 1,600

Deluxe (1,350 Lines)

Rs. 2,600

Premium (2,000 Lines)

Rs. 3,700

SuperStar
Rs. 300 / Line

40 Lines

Rs. 940

Classic (40 Lines)

Rs. 1,200

Deluxe (40 Lines)

Rs. 1,400

Premium (40 Lines)

Rs. 1,600

SuperEnaLotto
Rs. 200 / Line

40 Lines

Rs. 1,100

Classic (40 Lines)

Rs. 1,400

Deluxe (40 Lines)

Rs. 1,700

Premium (40 Lines)

Rs. 2,100

EuroJackpot
Rs. 400 / Line

50 Lines




Rs. 1,200

Classic (45 Lines)

Rs. 1,400

Deluxe (45 Lines)

Rs. 1,700

Premium (95 Lines)

Rs. 2,300

La Primitiva
Rs. 200 / Line

84 Lines

Rs. 760

Classic (84 Lines)

Rs. 800

Deluxe (84 Lines)

Rs. 1,300

Premium (84 Lines)

Rs. 1,700

Ireland Lotto
Rs. 400 / Line

–

–

Totoloto
Rs. 200 / Line

–

–

Oz Lotto
Rs. 170 / Line

60 Lines

Rs. 940

Classic (60 Lines)

Rs. 1,000

Deluxe (60 Lines)

Rs. 1,300

 Premium (60 Lines)

Rs. 1,700

Cash4Life
Rs. 300 / Line

–

–
There are a ton more lottery games to choose from on LottoSmile India so you'll definitely find one that suits your tastes – and budget!
Does
Thelotter

India Have Casino Games?

No, TheLotter doesn't offer casino or slot games in India. This online website is solely met to let you take home huge cash prizes by giving you a platform where you can enjoy the thrill of global lotteries. It also has incredible discounts and bonuses that could give your tickets a boost.

With so many options to choose from on LottoSmile India, you won't have a shortage of life-changing opportunities! All your dreams could come true with a single pay-out, which is exactly what an online lottery website aims to do.
What Other Games Does
Thelotter

India Offer?

TheLotter may not have the usual casino or slot games; however, it does have a wealth of other games for players to choose from, such as:
Scratchcards

For those who are unwilling to wait for the next lottery draw, purchasing a scratch card or two would be their next best option. These give them a chance to instantly take home huge wins, with cash prizes going as high as $150,000.

Quick Draw

Another great alternative to the usual lottery draws, Quick Draws take place every hour, every day of the week. This means that lucky players have 24 chances a day to win a massive jackpot.
How to Get Started
It's easy to create an account on TheLotter – in fact, all you have to do is click on the "sign-up" button found on the website's homepage. This will redirect you to an online form, which will require you to input the following details:
Email Address
Password
Country of Residence
Additional information will be collected from you to help verify your identity. These details will also be used to process payments and pay-outs to you, in the event that you win a lottery.
Once you've created your account, you can now take part in more than 50 different lotteries from across the globe. With LottoSmile India, you can enjoy the thrill of playing in these lotteries from the comfort of your own home!
Here's what you have to do to start playing:
Choose a set of numbers
Place your order
Pay for your tickets
After paying for your order, a member from TheLotter will be assigned to pick up your lottery ticket/s for you. This means that you alone will be the sole owner of that ticket – no one else can have your set of numbers or your prizes.
Once your ticket/s are scanned, they will automatically be uploaded to your online LottoSmile account. You'll be able to see it before the actual draw takes place.
Has Anyone Won on TheLotter?
Yes, there have been a lot of winners on LottoSmile throughout the years. For instance, a woman from Panama – who has chosen to remain anonymous – won $30 million after entering the Florida Lotto in 2017. It was so huge that TheLotter even bought her plane tickets so that she could come to the United States and collect her cash prize in person!
Another lucky winner is a man from El Salvador, who matched all five numbers in the U.S. PoweBall during its January 2016 draw. This earned him a cool $1 million.
As of June 2020, TheLotter has paid out more than $100 million in cash prizes to over 5.5 million winners worldwide. Why not see if you can become one of these lucky people too?
How Do I Know if I Won a Lottery?
If your ticket won your lottery of choice, then you'll immediately be notified via SMS. You may have to pay a service charge when you initially place your order; however, the great thing about LottoSmile India is that it doesn't charge a commission on your winnings. This means that the entire prize money is yours alone!
Given that players aren't required to split their jackpot with the website, TheLotter India is definitely one of the best platforms out there for those looking to enjoy the thrill of global lotteries.
Does LottoSmile India Have Discounts, Bonuses, and Loyalty Programs?
Thelotter India immediately gives players a welcome bonus of 25% when they purchase their first ticket.
Yes, Thelotter provides players with a wide variety of discounts, bonuses, and loyalty programs. Here's a brief overview of their offerings:
Multi-Draw Discounts
Easily the best way to save money on your lottery tickets, the Multi-Draw Discount allows you to play 5, 10, 25, or even 52 consecutive draws with your lucky numbers. By availing of this incredible discount, you'll be able to save up to 25% of your original order price!
To avail of the Multi-Draw Discount, simply head over to LottoSmile India's "Special Offers" page on their official website. Without a doubt, this is a wonderful deal for those looking to try their luck at multiple lottery games in order to maximize their potential earnings.
Loyalty Programs
LottoSmile India has a great loyalty program called "The Loyalty Club." Members of this exclusive group have access to incredible deals, such as:
Online Lotto Ticket Saving

VIPs can save up to 20% of their order purchase while simultaneously accessing Subscription and Multi-Draw Discounts. These huge savings are available to members on top draws.

Lottery Promotions

VIPs can access countless promotions and discounts that have been customized for their needs. They'll also receive information about LottoSmile's latest deals via SMS and email.
A TheLotter India VIP membership definitely pays off!
However, one of its biggest perks is the Personal Account Management feature, which allows you to make use of TheLotter's qualified team of professionals who will personally ensure that you're taking full advantage of your VIP membership. This includes around-the-clock priority customer service, among other benefits.
Interested in becoming a LottoSmile India VIP member? Well, it's easy to do so! You'll start earning points the minute you deposit funds into your account to buy lottery tickets, with 1 USD equal to 1 point.
Here's an overview of the number of points needed to be a LottoSmile India VIP member, as well as the massive discounts that you'll have access to:
| | | |
| --- | --- | --- |
| VIP Level | VIP Points | Discount |
| Diamond | 5,000 and more | 20% |
| Platinum | 2,001 – 5,000 | 12.5% |
| Gold | 501 – 2,000 | 7.5% |
| Silver | 201 – 500 | 5.0% |
| Bronze | 51 – 200 | 2.5% |
The more points you earn, the more your status increases. So, deposit funds into your LottoSmile India account now and start making your way to becoming a Diamond VIP member!
Other Special Offers
TheLotter currently has four available special offers. Here's a brief outline of each:
Special Offer
Terms

10% Discount

Available for the U.S. PowerBall

Special discount on one-time entries

Valid on syndicates and bundle entries too

Free Subscription




(Every 10th for Free)

Never miss a draw with LottoSmile's subscription program. Taking advantage of this will instantly earn you 25 VIP points, as well.

Loteria Nacional EXTRA

Purchase two (2) or more shares to Europe's biggest raffle and receive a 10% discount.

Loteria de Navidad

Purchase two (2) or more shares to Spain's Christmas Raffle and receive a 10% discount.
Make sure that you're always updated with the latest information from the house of TheLotter since other bonuses are periodically made available to players on the TheLotter official website.
How Can I Fund My
Thelotter

India Account?

TheLotter accepts a wide variety of currencies, particularly the Australian Dollar, British Pound, Canadian Dollar, Euro, Russian Ruble, South African Rand, Swiss Franc, and the US Dollar.

Here are the following payment methods that you can use to fund your account:
| | | |
| --- | --- | --- |
| Payment Method | Minimum Deposit | Maximum Deposit |
| Visa | – | USD 5,000 |
| MasterCard | – | USD 5,000 |
| Web Money | – | USD 5,000 |
To deposit funds into your LottoSmile India account, simply head over to the "Deposit" page on the official website and follow the on-screen instructions there.
How Can I Get My Lottery Winnings?
After winning a lottery, withdrawing your prize money is naturally the next step. To take home your winnings, you can either collect them directly from the lottery game or have a representative from LottoSmile India pick them up for you.
If you choose the latter, then you'll be required to provide proof of your identity, as well as proof that you're of legal age. Once the prize has been collected, it will automatically be credited to your online TheLotter account.
Withdrawals can be made via the following methods:
| | | |
| --- | --- | --- |
| Withdrawal Method | Minimum Amount | Processing Time |
| Visa | USD 1 | 1-3 business days |
| MasterCard | USD 1 | 1-3 business days |
| Bank Transfer | USD 1 | 1-3 business days |
Ready to earn millions? Then, sign up for LottoSmile India now!
Does
Thelotter

India Have a Mobile App?

Yes, TheLotter has a mobile app available for both iOS and Android devices. Its interface is incredibly user-friendly and intuitive, with a similar format to the website. It loads fast and has all the features of the online platform, including the ability to deposit funds into your account and withdraw your earnings.

While the LottoSmile India website can be accessed via browsers like Google Chrome and Safari, using its dedicated mobile app is still much better, simply because of the faster loading time. It's easy to navigate, as well, which means that even the least tech-savvy of players will have no trouble using it.

The mobile app is available in multiple languages too. Besides English, it also supports Polish, Spanish, Portuguese, Dutch, Romanian, Magyar, and Italian.
What Customer Support Does
Thelotter

India Offer?

LottoSmile India customer support is online at all hours of the day and can be contacted through a variety of platforms, namely WhatsApp, email, and a live chat feature on the official website. This means that any issues that players encounter will be easily and quickly addressed by the platform's representatives.

To reach out to LottoSmile India customer support, you can message them through WhatsApp (+356 79 36 35 36) or use the live chat feature. A contact form is also available on the platform's official website if you want to shoot them an email.
What are the Pros and Cons of LottoSmile India?
If you're still hesitant about using LottoSmile to play in lotteries from around the world, then here's a nifty list to help you make up your mind:
Pros
Has a wide variety of lotteries to choose from
Customer service is available around the clock
Doesn't take commissions on winnings
A lot of discounts, exclusive deals, and other perks
Mobile app is available for both iOS and Android devices
Has already paid more than $100 million so it's absolutely legitimate
Cons
Only a few payment methods are available
Has service fees, although these aren't steep
Changing Your Life is Easy with LottoSmile India
Looking at everything we've detailed in this TheLotter review, it's clear that the website is a fantastic online platform that gives players from India access to more than 50 lotteries worldwide. Not only will they get a chance to take home millions in cash prizes, but they'll also have the opportunity to change their lives.
What are you waiting for? Sign up for LottoSmile India now and be one of the lucky winners whose life has been forever transformed!