Lottoland
There's nothing more exciting than trying your luck at lotteries; however, it can be tough to pick which one to go for due to the many choices out there. 
Keep in mind that this decision is hinged on your priorities, though. For instance, Lottoland is one of the most popular websites, with a dedicated platform for players native to India.
In this article, we'll break down Lottoland online – what it is, the various games that it offers, its different jackpots, and more. If you're curious to know more about the platform or want a comprehensive opinion about Lottoland and its service, then you've come to the right place.
All About Lottoland Asia
Lottoland online is a fantastic option for those looking for popular games, new genres of casino games, and exciting lottery options. It was founded in 2013 in Gibraltar by an entrepreneur named David Rosen, who worked on it along with seven other employees. The platform has seen massive growth since then, with its official website garnering millions of traffic each day.

A wide variety of online lottery options can be found on Lottoland, allowing visitors to find a casino game that suits their tastes and preferences. All these can be played as an individual, but some may opt to join a syndicate to improve their chances of winning. 
To add to that, the platform also funds the Lottoland Foundation for the differently-abled, an organization that aims to promote sports and other leisure activities that both disabled and abled children can enjoy.
Is Lottoland Legal in India?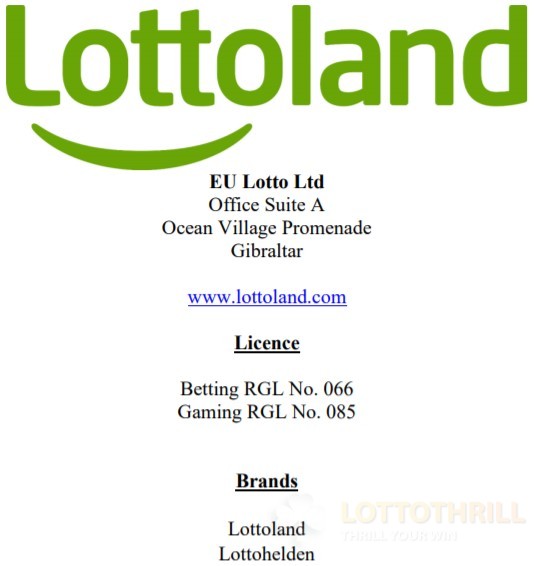 Each state in India enforces its own rules and laws to regulate gambling, with at least 13 of them permitting lotto-related activities. More specifically, the states of Maharashtra, West Bengal, Punjab, Kerala, Sikkim, Madhya Pradesh, Nagaland, Goa, Arunachal Pradesh, Assam, Meghalaya, and Manipur have all legalized lotteries in India. 
Even with strict regulations governing lotteries, Lottoland, in particular, is legal in India, mainly because of the country-specific platform It's also regulated and licensed by several official bodies – specifically, the Government of Gibraltar, the Gambling Commission of Great Britain, and the Irish National Excise License Office. 
Lottoland's official website is extremely safe to use, as well, thanks to it being integrated with 128-bit SSL encryption. This adds an extra layer of protection to all customer data and personal information, ensuring privacy from third-party companies or malicious agents. It also secures every single financial transaction that takes place on the platform, whether it be wagers or cash prize withdrawals. 
In short, Lottoland is a legal and trustworthy website that enables people in India to play lottery games held from around the world, including the MegaMillions, PowerBall, the EuroJackpot, and more. 
Jackpot Lotteries for Big Wins
On the Lottoland official website, visitors can play lotteries from across the globe in the comfort of their own homes. For instance, they can choose those with huge stakes, such as the USA Lotteries, to win jackpots that could transform their lives. 
With games that start as low as Rs. 80, this platform undoubtedly offers everybody the chance to win large and keep their dreams alive. 
Lottoland online players hailing from India have access to:
Cricket Jackpot, available every Wednesday, Friday, and Sunday

PowerBall 

Spanish El Gordo lottery  

Jeeto Lotto, where they can take home money from a pool of Rs. 40 million

MegaMillions and EuroMillions to earn cash prizes in the billions 
Given all these, it's clear that Lottoland is a great opportunity to try your luck! 
No one knows how fate turns out, but you can definitely improve your chances of winning by joining a syndicate. This enables you to wager on numerous lines, giving you a portion of the rewards if any of the ones you bet on succeed at any level. 
Unlike most other lottery specialists, Lottoland allows you to make wagers on the lottery's result. In fact, it will even let you make bets on certain lotteries a few minutes before the draw, including on the SuperEnaLotto and the EuroJackpot.
What Lotteries are Available on Lottoland?
In this next section of our Lottoland India review, we'll take a look at a few of the many lotteries available on the platform. 
If you're having trouble picking which game to play, then here's an overview of the ten most popular ones on Lottoland: 
Lottery
Line Price
Syndicates

PowerBall 

Rs. 300

(around $4.00)

Powerball Slime 

105 Combined Lines

100 Shares Available

Sapno Ki Udaan

203 Combined Lines

150 Shares Available

Power Ka Dum

1,008 Combined Lines

300 Shares Available

Malamaal Daily

Rs. 40

(around $0.50)

No information available

EuroMillions

Rs. 240

(around $3.20)

EuroMillions 160

168 Combined Lines

100 Shares Available

EuroMillions 330

336 Combined Lines

100 Shares Available

EuroMillions 500

504 Combined Lines 

100 Shares Available

EuroMillions 1000

1,008 Combined Lines

81 Shares Available

Jeeto Lotto

Rs. 80




(around $1.00)

No information available

MegaMillions

From Rs. 300

(around $4.00)

Game Kismat Ka

83 Combined Lines

60 Shares Available

Jiyo Apne Andaaz Me

126 Combined Lines 

80 Shares Available

Apno Ke Sapno Ka Game

504 Combined Lines

120 Shares Available

El Gordo de Verano

From Rs. 400

(around $5.30)

No information available

Sambad Plus

Rs. 150

(around $2.00)

No information available

French Lotto

Rs. 220

(around $2.90)

No information available

SuperEnaLotto

Rs. 160

(around $2.15)

No information available

Cricket Lotto

Rs. 80

(around $1.00)

No information available
Interested in any one of these? Then, head over to the Lottoland official website to start playing – you might just be the lucky winner! 
Cricket Lotto
Specific to players from India, Cricket Lotto is a 5/49 game accessible on Wednesdays, Fridays, and Sundays. It has one of the most affordable ticket prices on Lottoland, with each costing just Rs. 80. Extra highlights to this lottery include Number Rakshak, Double Jackpot, and Extra Innings.  
Jeeto Lotto
One of the fastest lottery games on Lottoland, Jeeto Lotto draws every four minutes, from 3:45 p.m. IST to 8:54 a.m. IST, every single day of the week. 
Casino Games
In addition to lotteries, Lottoland also offers a wide variety of thrilling casino games on its official website. Numbering more than 200, these well-known games like Keno, Openings, Video Poker, Roulette, Blackjack, and Baccarat. Those from renowned developers, like NetEnt and Microgaming, are also featured. 
Lottoland also has many varieties of poker, as well as the crowd favorites, Side Bet City and Lightning Dice. Those who prefer quick and thrilling games should definitely check these out. 
Here's a brief overview of what's available on the official website: 
| | | |
| --- | --- | --- |
| Casino Game | Gameplay | Return to Player |
| The Champions  | 5 Reels, 3 Rows, 25 Pay-Lines | 96.51% |
| Vault of Fortune | 5 Reels, 3 Rows, 20 Pay-Lines | 96.01% |
| Lucky Oktoberfest | 5 Reels, 3 Rows, 10 Pay-Lines | No information |
| Euphoria | 5 Reels, 3 Rows, 20 Pay-Lines | 95.99% |
| Sahara Nights | 5 Reels, 3 Rows, 20 Pay-Lines | 96.20% |
| Beer Barrel Bash | 5 Reels, 4 Rows, 80 Pay-Lines | 96.50% |
| Mustang Gold | 5 Reels, 3 Rows, 25 Pay-Lines | 96.53% |
| Ozwin's Jackpots | 5 Reels, 3 Rows, 20 Pay-Lines | 96.80%  |
| Vikings Go Berzerk  | 5 Reels, 3 Rows, 25 Pay-Lines | 96.10% |
| Temple Stocks  | 5 Reels, 3 Rows, 243 Ways to Win | 96.10% |
There are many other casino games available on Lottoland's official website so you definitely aren't limited to these ten! Without a doubt, you'll find one that will suit your personal tastes and preferences.
Online Slots
Players have access to more than 300 online video slot games from reliable suppliers, such as NetEnt, Big Time Gaming, and Microgaming. 
Meanwhile, those who prefer non-mainstream games should opt for those developed by houses, like Quickspin and Yggdrasil. These include the following:
Golden Fish Tank

Mustang Gold 

Vikings Go Berzerk

Aldo's Journey

Dwarf Mine

Wild Wild Chest

Vikings Go to Hell 
Video Poker and Table Games
If you want to talk about Lottoland and its wide range of excellent offerings, then its assortment of video poker and table games is worth a mention. 
Besides the usual Blackjack and Texas Hold 'Em, players can also enjoy various poker games including Three-Card Poker and Caribbean Stud Poker. They can also opt for energizing rounds of Roulette at the following: 
Lightning Roulette 

Double Ball Roulette 

American, European, and French varieties of Roulette 
Scratch Cards and Instant Wins
Lottoland also offers scratch cards and instant win matches for players who want instant gratification. The most popular ones are 777, Fruity Flury, and 33 Chances, although you're definitely not limited to these! 
The platform has 48 different scratch cards and 33 instant win matches, including Bingo Jackpot, KeNow Play, and Euro Millions. 
How Reliable is the Lottoland Sportsbook?
The Sportsbook is a nifty feature introduced by Lottoland that gives visitors an in-depth look into the latest sports-related news, statistics, and figures. From football to ice hockey, badminton, and more, this tool can be used to view the most recent scores and match outcomes. 
Lottoland prides itself on keeping the Sportsbook updated in real-time so this can definitely be relied on by those who love making bets on their favorite sports, players, and matches. The web page itself has a user-friendly interface too, so it's very easy to navigate and doesn't appear clunky at all.
How to Dive In and Start Playing
Now that you've caught a glimpse of the various games on Lottoland, you're probably more than ready to hop in. We don't blame you! The platform is constantly amazing its visitors with its amazing lotteries. 
If you're looking to start and register on Lottoland, then we'll show you how to do so in this Lottoland India review. 
To make an account, you will be asked to provide the following information: 
Full Name 

Full Address 

Date of Birth

Gender 

Email Address

Telephone Number
Keep in mind that Lottoland is a responsible gaming company so it can only be accessed by those over the age of 18. Thus, proof of legal age is required. This may seem like an inconvenience; however, it indicates that the platform is legitimate and trustworthy. 
All the necessary documents must be uploaded to the player portal, which can be accessed through the platform's official website. The Lottoland team will verify your account within 24 hours and you can start playing immediately after that. 
These are the only details you need to complete your registration. The process is so fast and easy that you'll be able to finish creating your account in ten minutes flat! 
How you can buy tickets on Lottoland
Before purchasing tickets to the game of your choice, you will need to add funds to your account first, which can be done through the individual player portal on Lottoland's official website. There are several different payment methods available, including credit cards, bank transfers, and digital wallets. 
Once you've deposited funds into your account, you can proceed with placing bets for whatever lottery you want. Head over to the website's main menu, which lists all the available games, along with more information about each of them. 

The ticket area can be found at the top of each designated lottery page. This is arranged in a grid, similar to how a lottery ticket usually looks in real life. You can select the numbers you want either by clicking on the corresponding numbers inside the ticket or opting for a randomly generated set instead. Note that ticket prices will vary for each lottery. 

After submitting the ticket with your desired numbers, the Lottoland official website will prompt you to confirm and proceed with your purchase. If you want to check out the results, then simply head over to the official website's footer section, where a link to the results page can be found. Keep checking this to see if you're among the lucky ones taking home a life-changing prize!  
How Do I Play on Lottoland?
There are three different ways to place a bet on Lottoland. 
The subscription method involves the automatic renewal of your ticket, which means that it will continuously be entered in every draw unless you decide to cancel. Thanks to this feature, players will no longer need to visit the official website to repurchase tickets and submit their numbers again. 
Lottoland also gives players the choice of joining a syndicate, which allows them to purchase shares in various lotto numbers. Not only does this increase their chances of winning the prize money, but it also reduces the amount that they have to pay for their ticket. 
Players can also opt for a single-line bet, in which they're required to pay the full ticket price. If they win, then the entire prize money is theirs.   
Can I Access Lottoland on My Phone?
Yes, a Lottoland mobile app is available for both iOS and Android users. It can be downloaded through either the Apple App Store or Google Play. Both mimic the appearance of the desktop site, which means that new users will find it extremely easy to navigate. 
Besides Lottoland's assortment of lotteries and casino games, players can also use the mobile app to reach out to customer support, which is available around the clock via email and a live chat feature. They can enable push notifications, as well, allowing them to keep track of their activities on the platform, as well as any important news and updates. 
A common misconception among players is that the experience of using the Lottoland mobile app is no different from accessing its official website through browsers like Safari and Google Chrome. However, they couldn't be more wrong. 
The app is actually more secure than the traditional mobile browsing sites so you won't have to worry about your personal data being compromised. All financial transactions are protected too, which means that your deposits, winnings, and withdrawals are safe from prying eyes and malicious agents. 
What are the Available Lottoland Payment Methods?
Lottoland India accepts several different payment methods. Here's a brief overview of what players can use to fund their accounts: 
| | | |
| --- | --- | --- |
| Payment Method | Processing Time | Minimum Deposit |
| Visa  | Instant | Rs. 300 |
| MasterCard | Instant | Rs. 300 |
| Neteller | Instant | Rs. 300 |
| Skrill | Instant | Rs. 300 |
| Bank Transfer | Instant | Rs. 300 |
To deposit money into your Lottoland account, simply click on the "Add Funds" button at the top of the landing page. This will prompt you to select the amount you want to deposit, as well as your preferred payment method. Note that the platform doesn't require a minimum amount for adding money into your account.
On the other hand, they can withdraw their winnings using these:
| | | |
| --- | --- | --- |
| Payment Method | Processing Time | Minimum Withdrawal |
| Skrill | 1-2 business days | Rs. 300 |
| Neteller | 1-2 business days | Rs. 300 |
| Bank Transfer | 1-2 business days | Rs. 300 |
Following the lottery draw or the end of a casino game, all your winnings are immediately sent to your personal Lottoland account. You'll only be allowed to withdraw the money after at least two (2) business days, which is a significantly shorter waiting time period when compared to other online platforms. 
To withdraw the money, all you need to do is head over to your personal account and specify how much you want to send to your bank account or digital wallet. You may also opt to keep a portion of the winning balance so you can continue playing. 
Benefits Beyond Games: Discounts, Bonuses, and Loyalty Program
In this Lottoland review, we'll also take a look into the many benefits that the platform provides its players. In particular, those from India can take advantage of these incredible perks: 
Bonuses
Lottoland offers a ton of rewards for newly-registered players. For instance, they'll be given access to "free cash" in the form of a free ticket. This bonus is a huge help considering how some games have expensive ticket prices. 
Seasonal Campaigns 
To celebrate unique holidays, Lottoland offers seasonal campaigns that give players additional perks on their online lottery of choice. 
Information about these discounts, bonuses, and loyalty programs are sent either through SMS or email so make sure that your details are correct. Keeping yourself updated on these incredible perks will allow you to take advantage of opportunities to increase your luck and your chances of winning!
Take Your Winnings Home
Did you manage to score big? In this Lottoland review, we'll also discuss the procedures you'll have to go through to take your winnings home.
Now, players have multiple options to withdraw their winnings into their accounts. For instance, they can choose to do so via a bank transfer or opt for platforms like Skrill and Neteller. All these usually process transactions within two (2) business days and require a minimum withdrawal amount of Rs. 800. 
You only have to head over to your personal account and input the amount of money you want to transfer to your bank account or digital wallet. The transaction will be finalized after a maximum of two (2) business days. 
Note that all Lottoland winnings aren't taxed so you can be sure that your personal account will reflect the full amount of your prize. 
The Grandest Wins, So Far
For all those wondering, "is Lottoland genuine," then be assured that it's definitely a legitimate website. Not only is it licensed with the Government of Gibraltar, but it's also regulated by the Gambling Commission of Great Britain and the Irish National Excise License Office. These official bodies prove that the platform is completely legal and trustworthy. 
If you're still a bit wary, though, then just ask these Lottoland winners, whose massive take-home cash prizes will verify the platform's legitimacy: 
A player from Michelin won a life-changing 90 million euro, thanks to the Eurojackpot bet that she purchased. 
On January 21, a bet holder took home the German Lotto jackpot of €22.3 million, making them the sixth-largest winner of all time. 
There have been several Lottoland India winners too. For example, Shaji Matthew from Kerala won big in the Atlantis Casino Game, which boasts a 94.73% return to the player. He managed to take home Rs. 3.3 Crores. 
Among the lucky Lottoland India winners is Partho Mondal from West Bengal, who won about Rs. 53 Lakhs on Malamaal Daily. What makes this even more amazing is the fact that ticket prices for this game usually amount to no more than Rs. 40!
So if you're still asking yourself "is Lottoland genuine or not," then the stories of these Lottoland winners will prove that it is! 
What Kind of Customer Support Does Lottoland Have?
Players wishing to reach out to a customer service representative from Lottoland India may either send a message  to the email address support-india@lottoland.asia or make use of the "Support and Feedback" tab on the official website. While the platform's customer support is available around the clock, it usually takes agents at least 24 hours to get back to you. 
All queries and concerns are answered within a few business days, although this may vary based on your question or the severity of the issue you're encountering.
What Makes Lottoland Unique?
There are many different reasons why Lottoland is much better than any other online gambling platform out there. For one thing, it's regulated by several governing bodies, which guarantees its legitimacy. Its website is also secured with top-of-the-line SSL technology so players don't have to worry about their personal data being compromised. 
Another thing that sets Lottoland apart from the competition is the fact that its official website is tailored to various regions in the world. Besides English and Hindi, it also supports German, Slovakian, Polish, Brazilian Portuguese, Japanese, Hungarian, and Swedish. It has even created a platform specifically for players hailing from India – one of its biggest and more prolific markets. 
Lastly, the sheer number of lotteries and casino games that Lottoland hosts is incredible. No other online gaming platform has as many as they have, which is why it's popular with thousands of people from across the globe. 
The Pros and Cons of Lottoland
To sum up this review, here's a quick list of Lottoland's pros and cons. 
Pros
Quick and easy to register 

Mobile app for both iOS and Android devices  

Hundreds of lotteries and casino games to choose from

Regular stream of promotions and bonus deals

Absolutely legitimate  
Cons
Could use more payment methods 

Live Chat feature isn't available around the clock 
Lottoland Review: Final Thoughts
Lottoland India is a legal and trustworthy platform that practices gaming with control and responsibility. It has excellent customer service, with representatives who are willing to go above and beyond to help you resolve any issues that you might have encountered. 
With a wide range of games in several different categories, Lottoland is undoubtedly a once-in-a-lifetime opportunity that could allow you to achieve your dreams. From enjoyable casino fun to lotteries like La Primitiva that have high stakes, this platform definitely has it all!