Powerball Lottery ranks as America's number 1 lotto game with the biggest jackpot.
Where: the game is held in 45 states of America. Also, it covers the District of Columbia, the Virgin Islands, and Puerto Rico.
When: every Monday, Wednesday, and Saturday at 22:59 ET.
Ticket Price: $2.00
Jackpot Amount: the record is $1580 Million.
Who Can Play Powerball Lottery?
You don't have to be a US resident to participate in the Powerball Lottery. Anyone is allowed to buy tickets online or offline. We'll cover all the details you need for playing the Powerball Lottery Online outside the US.
Is It Legal to Play PowerBall from India?
Yes, it's totally legal for you to play Powerball online from India.
You can also visit the USA to buy an American lottery ticket but it's much easier to play online and later claim your winnings online while being in India.
How to Play Powerball Lottery?
If you want to take part in the Powerball Lottery you can either buy tickets in the US, bet on the game online, or purchase Powerball Lottery tickets online.
How to Play Powerball Lottery Online?
You can bet on possible winning combinations of Powerball through the help of various platforms such as Lotto Agent, Lottoland.
Instead of choosing possible winning numbers and buying a lottery ticket, you can try betting on the possible results that you think might be drawn. The chances of winning are absolutely the same as you still choose the winning digits. The only difference is the format of participating in the lotto game.
Can you Buy Powerball Lottery Tickets Online?
You can purchase Powerball Lottery tickets online from official websites like Lottosmile, Lotto247, Multilotto.
Let's go through a step-by-step guide to see how to buy Powerball lottery tickets online on Lottosmile:
Go to "Lotteries" section on the website
Press "Play" on the Powerball game which is the very first line
Choose your lucky numbers: You have to pick 6 numbers (5 main and 1 additional number) for each ticket. If you want to choose it randomly, press "Quick Pick" and you'll get randomly generated numbers.
You can choose a Multidraw option to buy 5, 10, 15, 25, or 52 draws for a discounted price.
There is also a Multiplier option that lets you multiply prizes up to 10 times and double the 2nd place winnings to $2 Million.
You can also buy a subscription to never miss a draw. Plus, you'll get every 10th ticket for free.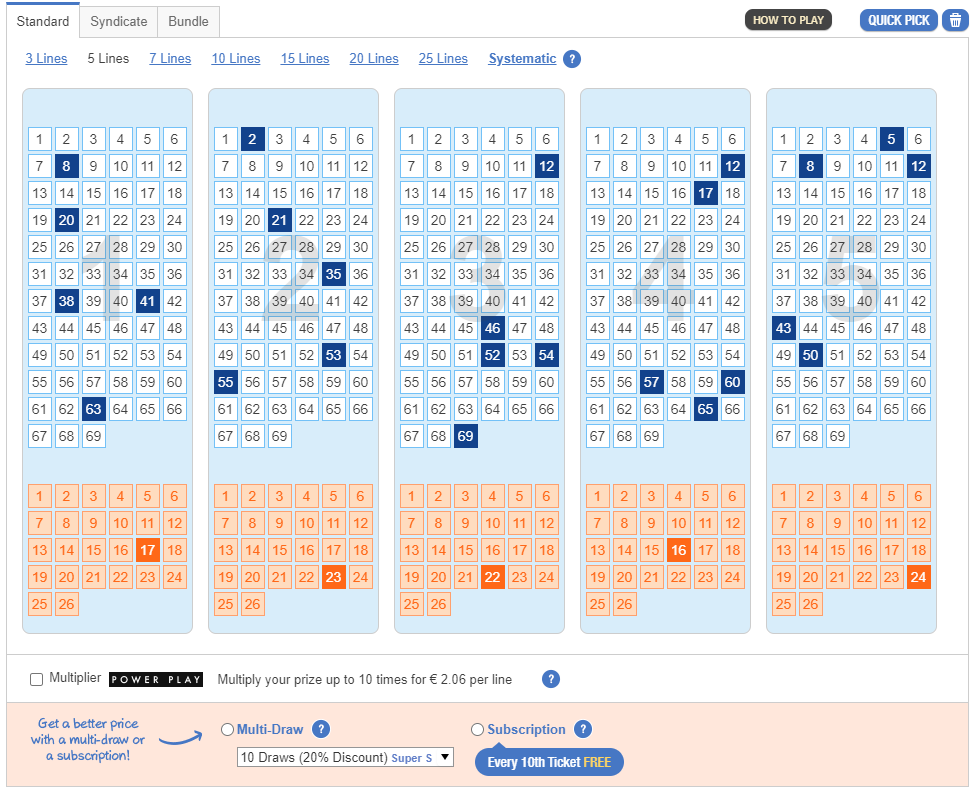 Create your Lottosmile account: it's free and simple
Register Email and Password: create a password and choose your country of residence. Complete the necessary private details.
Pick a payment method: choose how you want to pay and fill out the card number, expiration date, and CCV numbers.
Confirm your ticket: it's the final step of buying a Powerball Ticket online..
Now, be patient: check your online ticket receipt and chosen numbers on your account. Be patient with the drawing process and claim your prize if you win.
Play Powerball Lottery Offline
If you're currently in the USA or you're planning to go, you can find the Powerball tickets in most grocery stores in almost all states.
But if you're not going to the US, you don't have to spend too much time and money on the trip as you can simply buy the ticket or bet on the results online without even leaving your room.
How to Claim Powerball Winnings Online?
By now you know how to play Powerball online but you need to know how to claim your prize online.
When playing online you don't need to worry about going anywhere to claim your winnings as every transaction happens online.
If you win a small amount of money you'll have it transferred straight to the lottery account to use the money for the Lottery.
If the prize is relatively big an official agency of the lottery will contact you to transfer your winnings directly to your bank account.
Claim Your Prize Offline
Less than $600: you can claim your money in any authorized lottery retailer.
More than $600: you should go to a district office, lottery office, or lottery headquarters to get your prize.
Jackpot: you'll be contacted by the headquarters of the lottery to plan a meeting. You'll have to prove your identity and bring your ticket receipt with you.
Final Thoughts
Now that you know how to play Powerball Lottery online and offline, you can go ahead and confidently choose your lucky numbers.
Go through the easy process of registration and payment confirmation and the tickets are yours. If you don't want to buy the lottery tickets, try betting on the results. Either way, have fun and enjoy the game.
Good luck!