Nagaland State Lottery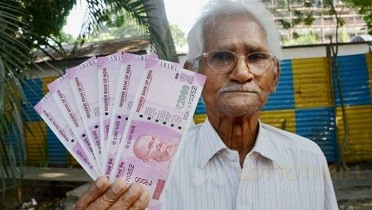 Nagalands Lotto is The Lotto That's Danced It's Way Into Hearts. Find out why this is a favourite and still prosperous.
Nagaland State Lottery is a very popular game in India, with massive events on certain draw events and brings in great crowds and beloved celebrities.
Operations: Nagaland, Sikkim, We-Bengal
Nagaland State Lottery was formed to manage the operations of all lottos, and to help grow the revenue of the state. Offering utterly unique opportunities for their citizens to gain meaning and added wealth, and is a favored game by many for this reason.
To win, tickets must match up with randomly generated figures that are produced during the daily results draw.
For each of the Daily's, you can gain prizes of a whopping 10 million rupees and only cost a meager 6 rupees to enter. The modest price of tickets is why the games are so popular amongst the residents of India, as almost anyone can participate in this thrilling ride.
The draws fall every day. You can obtain lotto sambad and other results online.
Nagaland-State-Lottery: Names Of The Daily Games
Nagaland-State-Lottery has daily game schemes that occur in the morning, afternoon, and evening.
Below is a table that details the sambad drawing times of each game, occurring every day of the week, three times a day with their results.
Dear-Lottery Draw Results Detailed
 

Day of the Week

Draw Times
Dear Evening / 8pm
Dear Day / 6pm
Dear Morning / 1pm
Friday

Dear Vulture-Evening

Dear Earth-Friday

Dear Hooghly-Morning

Saturday

Dear Ostrich-Evening

Dear Mars-Saturday

Dear Kosai-Morning

Sunday

Dear Hawk-Evening

Dear Jupiter-Sunday

Dear Damodar-Morning

Monday

Dear Flamingo-Evening

Dear Sun-Monday

Dear Ganga-Morning

Tuesday

Dear Parrot-Evening

Dear Moon-Tuesday

Dear Teesta-Morning

Wednesday

Dear Eagle-Evening

Dear Mercury-Wednesday

Dear Torsa-Morning

Thursday

Dear Falcon-Evening

Dear Venus-Thursday

Dear Padma-Morning
Prize Amounts For Dear-Daily Lotteries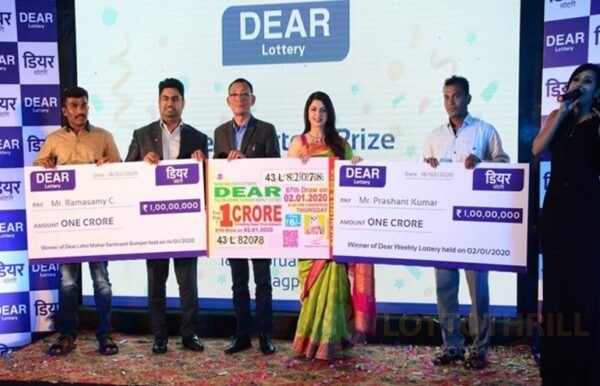 There are many winners in Dear-Daily schemes, and each prize tier besides the jackpot offers many people the chance to cash in as winners.
The number of prizes in each tier to be won for Daily lottery results:
1st prize – 1 time
2nd prize – 6000 times
3rd prize – 60 000 times
4th prize – 60 000 times
5th prize – 600 000 times
The table below details the different prize tiers and the money results for winning tickets.
 

Prize Structure

Dear Daily Draws – Prize Money (In Rupees)
Evening / 8pm
Early-Evening / 4pm
Midday / 1pm
1st
1 Crore
1 Crore
1 Crore
2nd

9000

9000

9000

3rd

450

450

450

4th

250

250

250

5th

120

120

120
Nagaland Bumper Lotteries
Over time, there've been many bumper games for Nagaland-State-Lottery. The ones people will remember well are Dear Winter Special Bumper, Dear Kali Puja Bumper, Dear Lohri Makar Sankranti Bumper, and more.
The one currently running is Dear Durga Puja Bumper, which offers massive prize amounts far greater than the Daily games.
They operate much the same as their other lotteries, with self-generated numbers broken up into multiple series. The date of the draw occurred on Friday, October the 15th, 2021 at 9pm. Tickets cost more than the Daily games, prices roughly at 2000 rupees.
Despite the steeper cost of tickets, the prize results are highly desired and even winning the lowest tier prize results in you earning back your money spent.
Durga Puja Bumper prize tiers and prize results:
1st prize – 50 million rupees
2nd prize – 10 million rupees
3rd prize – 100 000 rupees
4th prize – 9000 rupees
5th prize – 5000 rupees
6th prize – 2000 rupees
Dear 500 Special Monthly
There has been a new Nagaland State Lottery approved for playing, called the Dear 500 Special, held on a monthly basis.
Much like every other ticket numbering structure, the figures are generated automatically and split up into series. The very first draw will occur on the 4th of December, 2021. Thereafter, the draw dates will be announced for the coming months next year.
Tickets cost 500 rupees, with a whopping jackpot of over 1crore, and high prizes in the other prize tiers. The second prize tiers offer the winner 49 lakhs. The third place prize tiers are worth 9.5 lakhs, and so on.
Results will also be available online, and ticket holders can view the lottery sambad through many online lottery websites and publications.
For more details on the prize tiers and past results visit the official website for Nagaland State Lottery.
How To Acquire Nagaland-State-Lottery tickets
Playing Nagaland State Lottery is very simple – all you need is to purchase a ticket.
Depending on which game you play, such as the Dear Daily, the new monthly game, or the bumpers, the ticket price will vary.
There are thousands of approved vendors that sell tickets, making your purchase convenient, as you can find a store close to you anywhere in an approved state.
Tickets can also be purchased online through official websites that will send you a physical ticket right to your residence. It has to be sent to you because of the requirements for claiming your winning prizes.
How To Purchase Your Nagaland State Lottery Ticket Online
A guide to purchasing your Nagaland State Lottery ticket online:
Visit a website that sells lottery tickets online
Choose the quantity of tickets you want
Choose the series you want to purchase
Input your personal data
Pay for the ticket (e. g. via credit card payment)
Receive your physical tickets
Wait for results or check online for the sambad
Claim your winnings, if your numbers have won
Claiming Your Prizes
Prizes below 10 000 rupees can be collected from retailers and agents. Prizes above 10 000 rupees are collected from the Nagaland Office – Kolkata.
In order to claim your winning prizes, you will need to present your original ticket with the results. Through the official Nagaland State Lottery website, you can download the form online for claiming and get the physical location to send your claim.
Original winning ticket and four official-sized (passport) photos need to be produced, to prove you are indeed the rightful winner. Despite the process, set in place to prevent fraud, it is well worth it to reap your well-played rewards.
Tax Deductions For Prizes
For all lottery prize winnings, a set of 30 percent is deducted from the whole.
Taxes are used to help raise the standard of living. There is honor in paying taxes for the state and country you live in, showing you are part of the greater collective.
FAQs
Here, we answer some frequently asked questions about the details of Nagaland State Lottery.
Question 1 – In which Indian states can I play the Nagaland State lottery?
There are three states citizens of India can participate in: Nagaland, Sikkim, and West Bengal.
Question 2 – How much does the Nagaland state lottery ticket cost?
There are price differences between the different games offered. The Dear Daily lottery tickets cost 6 rupees. The Dear Durga Puja Bumper lottery tickets cost roughly 2000 rupees.
The new game that has been approved, called Dear 500 Special Monthly, cost 500 rupees.
Question 3 – Can I play the Nagaland State lottery online?
You can play Nagaland State Lottery both online and through vendors physically. Online tickets are purchased via an approved online website, explained in one of the sections above.
Question 4 – Where can I check today and yesterday's results of the Nagaland State lottery?
There are many online publications that display the winning sambad for the different Nagaland games. One of the places to check for past sambad numbers is Nagaland State Lottery official website.
With many winners reaping amazing rewards, it's never too late to start playing. Remember, those who won never expected it, they simply enjoyed the thrill of playing.