La Primitiva
Spain La Primitiva Lotto is steeped in tradition and is one of the world's longest-running lotteries. It was established decades ago in 1973 by the tax minister. The initial idea being a way to rake in money to help support a crippling economy.
It is a popular choice for many hopefuls as the minimum jackpot starts at €2,000,00.00 and can roll over if not won.
This article describes how to play La Primitiva, the biggest jackpot ever won, how to purchase tickets and if you can play from foreign countries.
The Biggest La Primitiva Jackpots ever Won
The biggest La Primitiva jackpot ever won happened in 2015 after 56 rollovers, and the lucky winner took home €101.7 million by correctly identifying all 6 numbers plus the Reintegro
In 2015 the second-largest jackpot was won, which was a whopping €98 million; the lucky winner is now set for life and never has to worry about money ever again.
From March-August 2013, the jackpot remained untouched, but finally, a fortunate winner claimed the colossal amount of €66.6 million.
There have been multiple La Primitiva jackpot winners over the years, and below is a table of these anonymous recipients and their life-altering winnings:
| | |
| --- | --- |
| Amount Won | Year |
| €101.7 Million | 2015 |
| €98 Million | 2015 |
| €78 Million | 2019 |
| €73 Million | 2014 |
| €32 Million | 2013 |
| €26 Million | 2007 |
| €24.92 Million | 2005 |
La Primitiva Draw Dates
You have a double chance to win La Primitiva in one week, as the draw takes place in Madrid, Spain, every Thursday and Saturday at 21:40 Central European Time. The results are uploaded to La Primitiva's official site, but you can also stream it on YouTube.
If you have bought your lottery ticket online through a third-party supplier, you can view the results on their site immediately after the lottery draw.
How Much Do Tickets Cost?
If you purchase a lottery ticket from a vendor in Spain, you pay €1 per play. If you buy La Primitiva tickets online, the site you use will most likely charge a service fee; some third-party providers even take a percentage of your winnings.
The Rules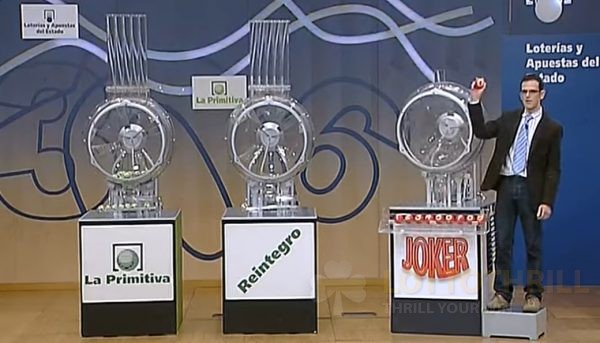 To start playing La Primitiva, you select 6 numbers ranging from 1-49, plus an extra number between 1 and 9, called the Complementario. What's great about this lottery is that they offer a bonus number, named reintegro; this number is chosen automatically for you.
To hit the jackpot, you need to predict all six numbers correctly. The best news is the Reintegro number provides you with an added bonus. People who match all six numbers along with the Reintegro will win a bonus prize on top of the jackpot.
Another advantage of this bonus is that even if you don't get one of your six numbers correct, you can still win some money if you hit the reintegro. In addition, if you get the Reintegro number correct, La Primitivarefunds the initial amount spent on your bet.
The point of the Complementario is to increase the amount of your winnings; this only applies if you get five numbers correct. If you hit five numbers, plus the Complementario, you can win up to 20 times more.
How likely are you to Win?
Everyone knows that winning the lotto is not easy, and the odds are usually against you; however, you don't need to hit the jackpot to win. There are several ways you can win some cash, and in some cases, the odds are in your favor:
| | |
| --- | --- |
| Matched Numbers | Odds |
| Six plus Reintegro | 1 in 139,838,160 |
| Six | 1 in 15,537,573 |
| Five plus Complementario plus Reintegro | 1 in 20,975,724 |
| Five plus Complementario | 1 in 2,330,636 |
| Five | 1 in 60,223 |
| Four plus Reintegro | 1 in 10,324 |
| Four | 1 in 1,147 |
| Three plus Reintegro | 1 in 567 |
| Three | 1 in 63 |
| Reintegro only | 1 in 10 |
Explanation of Single and Multiple Bet Options
La Primitiva lottoprovides single or multiple bet options, and what you choose is up to you. Obviously, if you increase the number of bets, there is a higher probability that you will win.
A single bet means you can select as many columns as you want; however, you only have a choice of 6 numbers.
For multiple bets, you only have the option of one column and can choose seven to eleven numbers.
Each number you add increases your bet, making your odds better. This means:
Seven numbers are equivalent to 7 bets
Eight numbers are equal to 28 bets
Nine numbers are equal to 84 bets, and so it continues.
The price of your ticket will depend on the number of bets you select.
The Joker
La Primitiva lottery offers a bonus game called the Joker. When purchasing your ticket and choosing your numbers, you have a choice to pay an extra €1 to play the Joker.
When you receive your digital ticket, there will be a seven-digit code on it, which you can use for this bonus game. The most fantastic news is that you can win up to €1 million if you participate in this additional bet.
Can you Play Spanish Lottery La Primitiva if you're from India?
Absolutely, La Primitiva permits residents from any country to play their lottery. If you happen to be in Spain and would like to make a bet, you can purchase tickets at any of these locations:
Lottery stores
Bars
Pop-up kiosks
Supermarkets
Grocery stores etc.
Always beware of opportunists who like to take advantage of tourists that can easily trick you into buying fake tickets.
You don't have to be in Spain to play La Primitiva lotto; you can purchase tickets online, direct from the official site, or a third-party supplier. Many websites allow Indian citizens to buy tickets through their sites; however, they all have their own rules.
It's essential to choose the site that most fits your needs, and when selecting a provider, you need to take the six following factors into account:
Customer service is vital, especially when it comes to exchanging hard-earned cash, so choose a site that has 24-hour support.
Multiple payment options. You might want a provider that offers several payment options.
Do you only have a mobile phone? Some providers offer a mobile app to make your experience smoother and easier to access.
Saving money when betting on your favorite lotteries, many sites over sign-up bonuses.
Do you want to spend your money on various options on one site? For example, some sites offer lotto tickets and casino games options.
Playing more than one lottery. Although La Primitiva offers insane jackpots, there are other competitors you might want to try. Multiple third-party providers give you access to various options.
Before betting on any site, make sure they have trusted reviews, as many scam artists are out there. Below, you will find reputable sites where you can purchase La Primitiva lottery tickets:
A Step-by-Step Guide on how to Play La Primitiva Online from India
Purchasing La Primitiva lotto tickets online can seem like a daunting task, but it is quite simple.
Step One
Firstly, you need to choose which site you want to join; once you have selected your provider, you need to register or create an account. Generally, you are required to provide your name, surname, email address, mobile number, date of birth, and set a password.
Step Two
Now that you are all set up, you can proceed with purchasing your La Primitiva ticket. On the homepage, you will see multiple lottery banners; scroll down to the one you want to play and click on it.
Step Three
Once clicking on the banner, it takes you to a digital ticket, where you can select how many bets you want to play, and you can choose your numbers. You can apply to a syndicate during this process, become a subscriber, or participate in a multi-draw.
For La Primitiva, you have an option of selecting numbers between 1-49; after you have made your choice, scroll down to the complementario selection and choose a number between one and nine.
Alternatively, you can choose the La Primitiva quick pick function, where numbers are randomly selected for you. Keep in mind that the Reintegro will automatically appear on your digital ticket after purchase.
Step Four
Click on the check-out button on the top right-hand side of your screen, and you are done!
What are Subscriptions, Multi-Draws, and Syndicates?
Multi-draw/Subscriptions
If you want to save 15-25% on your purchases, you can purchase a multi-draw ticket or subscription. Most platforms offer these benefits because they provide you with the opportunity to pre-order your tickets weeks in advance. You usually have a choice of 5, 10, 25, or 52 draws.
The only downside is you cannot change your number selection, and your initial choice is automatically submitted for each lottery draw. The benefit of this option is that you don't need to worry about missing out on a draw.
Syndicates
Lottery syndicates are great because you can increase your odds while saving money. There is an option to join a La Primitiva syndicate online, but you can also create one with family and friends.
When you join a La Primitiva syndicate, you invest in shares; everyone's shares are used to buy multiple tickets, which significantly increase your chances of winning. If there is a winning ticket in the pile, your syndicate pays you out according to the number of shares you invested.
Pros and Cons of Purchasing Lottery Tickets both Online and Offline
Pros of Offline Purchases
Less chance of getting scammed
No risk of hackers obtaining your personal information or credit card details.
Forces you to get out of the house and socialize with other people.
Cons of Offline Purchases
You have to travel to an outlet that sells lotto tickets
If you purchase a ticket in a foreign country and win, you need to travel to that country to redeem your prize.
You can lose your La Primitiva ticket, or someone can steal it
You need to check the results yourself, many people forget about their tickets, and never check them.
Pros of Online Purchases
You often save money on sign-up discounts and packages
Your provider will notify you electronically when you have won
Your provider will transfer your winnings directly into your registered account
You cannot lose your La Primitiva ticket
Cons of Online Purchases
There is a chance that someone can hack your account
There are some scammers online (so use a reputable site)
Most third-party providers charge a service fee or take a percentage of your winnings.
How to Claim your Prize when Purchasing a Ticket Offline
When purchasing a La Primitiva ticket offline in Spain, the only way to claim that prize is to travel back there, and visit the lottery office and record your win. Then, the staff will ask you for your details which include your bank account information.
The lottery office will notify you electronically when the funds are on their way, and your prize is paid directly into your bank account.
How to Claim your Prize when Purchasing a Ticket Online
When you register with an online platform, you must submit your credit card information or banking details. Then, if you win La Primitiva (hopefully the jackpot), it is automatically detected, and the site will notify you.
The third-party provider will immediately pay your winnings into your bank account or credit card, depending on your preference and what your site of choice offers.
La Primitiva Payout Options
Unlike most lotteries that offer annual payments, La Primitiva only allows a once-off payment, which means that you receive the total amount of your winnings in one payment.
You can check the T's and C's of your third-party provider (if you are using one) as some of them offer the choice of annual payments.
Do you Pay Taxes on your Winnings?
If you win anything under €2,500, you are not required to pay tax. However, the unfortunate news is that if you win anything over €2,500, you need to pay 20% of it over for tax.
If you are a foreigner and play from and live in a different country, La Primitiva lottery offers a tax refund. This can be a complicated process as you need to adhere to your country's tax laws and work out additional deductions.