Euromillions
Did you know that you can become a millionaire? It's true! Europe has what is called the EuroMillions Lottery that, for a small price, you can enter weekly. Not only that, but when you enter, considering where you are playing from, you will also be entered into sub-lottery games. How exciting!
History of EuroMillions
EuroMillions was thought up in 1994 in France, and wasn't launched until 2004. Original participating countries were Spain, France, and the UK. The very first winner was a French player who won a whopping €15 million.
General Info About EuroMillions
Originated in France.
Record Jackpot: €210 Million
Days and Times of Draws are Tuesdays and Fridays at 9 pm (CEST)
The ticket costs €2.50
There are nine countries that host the popular Euro lottery. These are Switzerland, Luxembourg, Portugal, Belgium, Ireland, Austria, Spain, France, and the United Kingdom.
Rules of EuroMillions
Each player must select 5 digits up to 50 and then 2 Lucky Star numbers up to 12.
On Tuesday and Thursday, the drawing for ticket sales closes down 30 minutes before the draw.
Players must be 18 year old or over, no matter the area they reside in, to participate.
Once players have selected their numbers they are automatically entered into supplementary games such as:
UK Millionaire Maker;
(The occasional) Europe-wide raffle;
European Millionaire Maker.
Payouts are then awarded for 13 different winning combos.
Live Draw
Additional Games of EuroMillions
UK Millionaire Maker
A sub-game only played in the UK.
Is similar to a raffle, which is a contest where tickets are sold and are pulled at random to choose a winner. In this case, they are winning a million dollars.
Is a special contest in the UK that takes place often where there are multiple winners.
Anytime someone purchases a Euro lottery ticket, they are automatically be participating in the UK version for each set of numbers they chose.
1 of the tickets sold in the UK always wins 1,000,000 pound.
Second Chance Draw (Swiss EuroMillions only)
Just like the UK, when you purchase a Euro lottery ticket in Switzerland, you are immediately entered into Switzerland's Second Chance Draw.
By taking the five main numbers on your Euro lottery ticket you are entered, and prizes are awarded to those that match three, four, or five numbers.
The top prize has been listed at €150,000-300,000 for correctly guessing all five numbers.
If you match 4 numbers, it is €700.
If you match 3 numbers, it is €25.
If you have entered the drawings by playing online, then your prize will be delivered directly to your account or your bank account.
Ireland Only Raffle
To enter this raffle, you only have to buy a Euro lottery ticket in Ireland.
The raffle code is generated onto your ticket for each set of numbers that you play in the game.
The raffle code consists of nine characters that start with the letter I and are followed by three more letters and five numbers.
Whoever matches the winning raffle code is awarded € 1,000,000
There is also an extra 1 million that is included in a special raffle that takes place a couple of times a year.
EuroMillions Prize Table
| | | |
| --- | --- | --- |
| Numbers Matched | Odds to win | % of Prize Fund |
| Match 5 + 2 Lucky Stars | 1 in 139.838.160 | 43.2% |
| Match 5 + 1 Lucky Star | 1 in 6.991.908 | 3.95% |
| Match 5 | 1 in 3.107.515 | 0.92% |
| Match 4 + 2 Lucky Stars | 1 in 621.503 | 0.45% |
| Match 4 | 1 in 31.075 | 0.48% |
| Match 3 + 2 Lucky Star | 1 in 14.125 | 0.38% |
| Match 3 + 1 Lucky Star | 1 in 706 | 0.67% |
| Match 3 | 1 in 314 | 1.85% |
| Match 2 + 2 Lucky Stars | 1 in 985 | 3.5% |
| Match 2 + 1 Lucky Star | 1 in 49 | 14.85% |
| Match 2 | 1 in 22 | 18.25% |
| Match 1 + 2 Lucky Stars | 1 in 188 | 4.95% |
Playing EuroMillions in India
There are a total of two ways how a person can participate in the Euro lottery in India. The first one is to visit the participating country in which the Euro lottery is played. The tough part about this is that if you win, you need to make sure you are in that country to collect your earnings. The next way someone from India can play Euro lotto is by signing up for sites like Lottoland, Lotto247, or Playhugelottos. Once you have created your profile and made your first deposit you can get started purchasing your first ticket. Here is how that works:
Sign in to your profile on the lottery website of your choosing.
Choose the number of tickets you wish to purchase.
Choose which numbers you would like to play.
Enter your personal data.
Purchase your tickets using the credit card.
Wait for the drawing to see the results, which are listed on the official EuroMillions website.
If you have won, funds will be deposited directly into your account.
How EuroMillions is Taxed
In the UK, all lottery prizes are awarded tax-free. This is regardless of how much you win or the game that you play. These winnings are not treated as income by HM Revenue & Customs. Residents do still have to keep in mind the inheritance tax, which is paid when a UK resident dies and their estate is worth more than €325,000. Anything above that is taxed at 40%. Other countries that list their prizes as tax free are France, Austria, Belgium, Luxembourg, and Ireland. Portugal taxes prizes that are over five thousand euro at 20%. Switzerland has the same percentage of taxes but taxes anything over forty thousand. It is highly recommended to hire an accountant that can help you plan accordingly if you win a large sum of money such as this.
The Top 10 EuroMillions Winners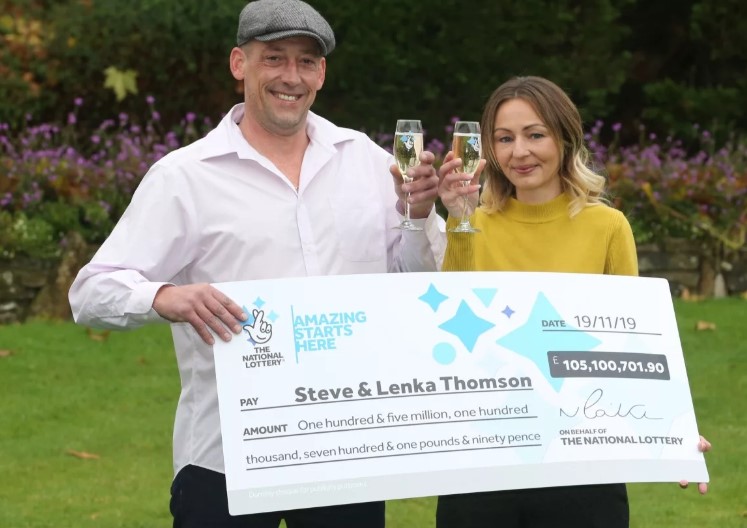 Switzerland
February 26th, 2021
Winner: Unknown
The winner purchased 2 tickets online for €7.
Amount won: €210 Million.
France
December 11th, 2020
Winner: Unknown
The winner's ticket matched the entire winning combination.
Amount won: €200 Million.
United Kingdom
October 8th, 2019
Winner: Anonymous
The player staked their claim 2 days after the draw and requested to remain anonymous.
Amount won: €190 Million.
Suffolk, England
August 10, 2012
Winners: the Bayfords
The couple, a former postman and a healthcare assistant purchased a Lucky Dip ticket at a convenience store.
Amount won: €190 Million.
Castelo Branco, Portugal
October 24th, 2014
Winners: Anonymous
The ticket was purchased at a small shopping center.
Amount won: €190 Million.
Las Palmas, Spain
October 6th, 2017
Winner: Anonymous
The ticket was purchased at a shopping center, and it was the 83rd winner to come from Spain.
Amount won: €190 Million.
Dublin Ireland, and Limburg, Belgium
June 7th, 2013
Winners: Anonymous
2 tickets won, one from Ireland, and the other one from Belgium. Both tickets correctly matched all seven numbers.
Amount won: €187 Million.
Largs, Scotland
July 12th, 2011
Winners: Chris and Colin Weir
The ticket was purchased at McColl's which is a store in their town. Colin is a retired STV Cameraman, and Chris was a psychiatric nurse. They both donated a significant amount of their winnings, one notable donation being the Largs Thistle Football Club's ground as well as 1 million to the National Theatre of Scotland.
Amount won: €185 Million.
France, and Portugal
February 3rd, 2006
Winners: Anonymous
Consisted of three jackpot winners. Two from France and one from Portugal.
Amount won: €183 Million.
United Kingdom, France, Spain, Portugal, Ireland, and Belgium
November 17, 2006
Winners: Dean Hardman and Anonymous
Twenty winners won the prize in the second tier. Each winner received 5% of the share worth €9.6 million.
Seven ticket holders were from the United Kingdom.
Four were from France.
Three were from Spain and Portugal.
Two were from Ireland.
One from Belgium
Amount Won: €183 Million
FAQ's
Question: Is it legal to play EuroMillions from India?
Answer: Yes, it is 100% legal to play EuroMillions in India. This is because, in 2017, the Supreme Court of India gave the state governments the power to ban the sale of lottery tickets. You can either purchase tickets online or visit one of the states that allow the sale of lottery tickets. Currently, 13 states allow their residents to purchase tickets. These states are:
Arunachal Pradesh
Assam
Goa
Kerala
Madhya Pradesh
Maipu
Meghalaya
Mizoram
Nagaland
Punjab
Sikkim
West Bengal
If you still have any more doubts, you can read the article about legal lotteries in India.
Question: What is the difference between EuroMillions and EuroJackpot?
Answer: EuroJackpot provides you with 12 tiers of prizes while EuroMillions provides you with 13 tiers. The maximum prize for EuroJackpot is €90 million, while the maximum jackpot for EuroMillions is €190 million. The drawings for EuroJackpot take place on Fridays, and for EuroMillions, they take place twice a week on Tuesdays and Thursdays. The odds of a person hitting the EuroJackpot is 1 in 95344200, while the odds of a person winning EuroMillions is a little higher at 1 in 139838160.
Good luck!