SuperEnalotto
The SuperEnalotto lottery game has been active since 1997. The jackpots won are very significant and one of the biggest in the world. The game has Italian origins, and it quickly gained popularity first in Europe and then around the world.
Ever since it became worldwide, it is possible to play SuperEnalotto online. But if you don't know how this lottery game works and what you have to do to play it, keep reading this article to find out everything you need to know about the Italian SuperEnalotto lottery game!
Rules of SuperEnalotto Lottery
As in every game, SuperEnalotto also has rules and requirements that the player needs to follow to be able to play.
Learning the rules is necessary to achieve the best results in the game. But first, check some requirements to play SuperEnalotto:
The lowest bet is at least a combination of 6 numbers chosen between 1 and 90;
The cost is €1 for each entry;
You can also participate in the optional SuperStar contest by adding €0.50.
Goals of the game
The objective of the game is to match 6 SuperEnalotto lucky numbers out of 90. If a player matches all of them, they win the jackpot. The player can also gain other rewards, as SuperEnalotto has five prize categories.
The prize levels include the SuperStar and the Instant Win settings, among other 15 categories.
For those who have matched 5 figures, there is also the possibility to choose a "Jolly" number.
If they also match the "Jolly" number, the prize won will be the "5+1" prize. You must match at least 2 numbers to win. The Jolly number does not affect the jackpot, only the second prize.
Odds and Prizes in SuperEnalotto
Now you know some requirements and the primary goal of the Italian SuperEnalotto, it's time to check the odds and prizes it offers.
Main Prize
The jackpot is available for those who can match all six main numbers. You can win this prize if you play without the SuperStar.
| | | |
| --- | --- | --- |
| Matches | Odds | % of Main Prize Fund |
| 2 | 1/22 | 40% |
| 3 | 1/327 | 12.8% |
| 4 | 1/11,907 | 4.2% |
| 5 | 1/1,250,230 | 4.2% |
| 5 + Jolly | 1/103,769,105 | 13% |
| 6 | 1/622,614,630 | 17.4% |
| Instant-win prize pool | 1/500 | 8.4% |
SuperEnalotto SuperStar
When you purchase a SuperEnalotto ticket, the game gives you the possibility to include the SuperStar number on your receipt to increase your chances of winning a prize.
By matching the SuperStar number with one drawn, you can also win a prize.
| | | |
| --- | --- | --- |
| Matches | Odds | Prize (€) |
| Superstar | 1/138 | 5 |
| 1 number + Superstar | 1/303 | 10 |
| 2 + Superstar | 1/1,936 | 100 |
| 3 + Superstar | 1/29,404 | (3 level prize) x 100 |
| 4 + Superstar | 1/1,071,626 | (4 level prize) x 100 |
| 5 + Superstar | 1/112,520,716 | (5 level prize) x 25 |
| 5 + Jolly + Superstar | 1/9,339,219,450 | 1.000.000 |
| 6 + Superstar | 1/56,035,316,700 | Jackpot + 2.000.000 |
Instant Win
The Instant Win, or Vincita Immediata in Italian, gives you a 1 in 500 chance of instantly winning a prize every time you play SuperEnalotto. If the numbers you choose match the magic box combination, you instantly win €25.
This function is available for buying in both offline and online stores. By choosing this option, you still keep your chances of winning a reward in the primary SuperEnalotto draw.
Raffle odds
The SuperEnalotto Raffle differs from the regular SuperEnalotto lottery game, as the Raffles are usually done on special occasions or events, like Christmas.
The SuperEnalotto Raffle guarantees prizes for a preset number of draws during the time of the event. To score a reward, players have to match the code printed on their SuperEnalotto lottery ticket with the code that was drawn.
You can claim any winnings from the raffle the same way as the regular SuperEnalotto lottery draws.
When do SuperEnalotto draws happen?
The SuperEnalotto draws happen in Rome every Tuesday, Thursday, and Saturday at 20:00 CET. The ticket sales for each draw close 30 minutes earlier at 19:30 CET.
Draw days can change, occasionally, to avoid being drawn on public holidays.
How to buy a SuperEnalotto ticket in India?
Although this popular lottery game has Italian origins, nowadays, it is possible to play it online worldwide. See below how you can buy a SuperEnalotto ticket in India!
Retailers
You can buy lottery tickets online in an easy, safe, and legal way with retailers. There are a lot of online platforms and apps that allow you to purchase tickets, like TheLotter or Lottoland.
You can buy as an individual and also as a group. Always remember to check if the website you are visiting is really safe and legit.
Buy tickets in Europe
You can also purchase a lottery with a concierge service. Lottery concierges employ local agents to buy tickets in person.
You play just like any other lottery, but with the concierge acting as a middleman so you can receive the prizes without having to do so in person.
Most concierge services do not take commissions on any winnings incurred by your ticket.
Is it possible to play SuperEnalotto online?
It is possible to play online on many lottery agent websites. Your entries are kept safe in your account, with no chance of your numbers getting lost in the process.
Winnings would be automatically paid into your account as well, so you would never miss your prize. Also, be aware that even if you won a jackpot, you would not be required to collect any prizes in person.
It would be better to say that our website has a results checker and live draw.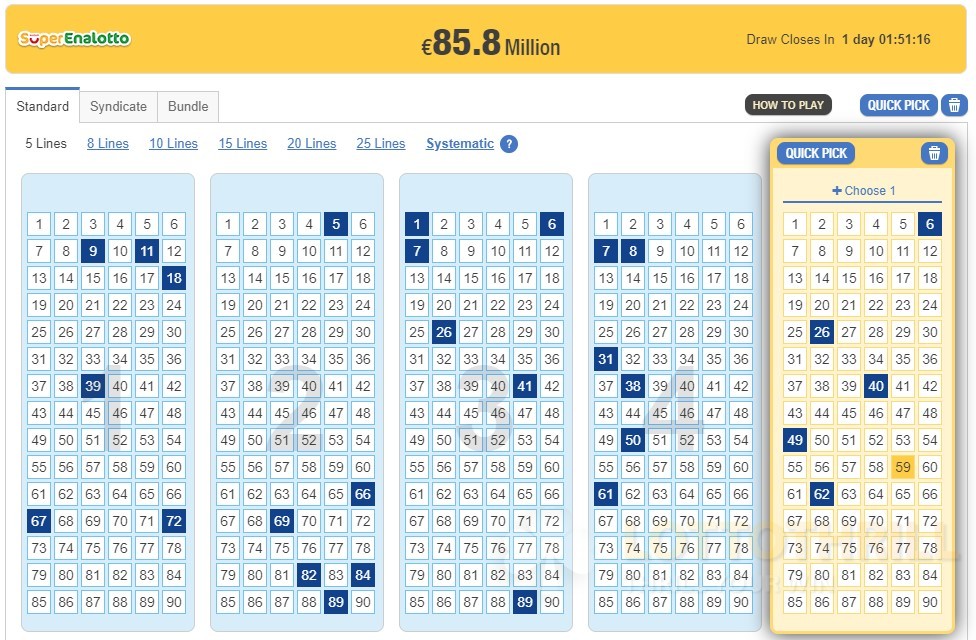 Step-by-step on how to play SuperEnalotto online
Step 1: Access a lottery agent website.
Step 2: Follow the steps to create an account and log in.
Step 3: It is most likely that the websites will ask you to make a deposit to buy your SuperEnalotto tickets.
Step 4: Once you have the amount available on the website you're playing, start making your picks. Select 06 numbers between 1 to 90.
Step 5: Choose whether you are going to play the SuperStar or not.
Step 6: Select the number of draws you want to enter. You should also define if you want to play a single draw, or if you want to play consecutive draws. You can also use the auto-generate system that randomly assigns the numbers for you.
Step 7: Pay for your entry.
Note: if you play the lottery online, your ticket will be safe in your account. But if you play at a retailer, take care of your ticket, so you can claim your prize if you win. Without it, it's not possible to claim the SuperEnalotto reward.
After purchasing a ticket, remember you also have a 1 in 500 chance of immediately winning a €25 prize.
The Superenalotto winners are notified by the lottery. If you want to catch the SuperEnalotto live streaming, you can access this here:
Where to check the results?
You can look at the SuperEnalotto results on our website in the section "SuperEnalotto results". The results are published immediately after the draw has taken place at 20:00 CET.
What is the SuperEnalotto Jackpot's Size?
The Italian SuperEnalotto has no jackpot limit, meaning its jackpots keep increasing until somebody wins. This is what allowed such a big prize for one single person.
No other Euro lottery has ever reached these heights. The EuroMillions and European Millions Lottery, for instance, have a jackpot cap, standing at USD 231 million. The starting jackpot is €1.7 million, and the record is €209,1 million.
How do claim prizes win in India?
Claiming SuperEnalotto prizes will depend on factors like the way you bought your ticket and the amount you won.
The prizes can be claimed in cash, check, or bank transfer.
The Superenalotto jackpot winners will be notified immediately by the operator through text or email. The winning amount will be credited to their account, and the prize has to be claimed within 90 days after the draw.
If you have won over €5,200, you will have to produce verification of some documents and undergo some procedures to collect your Superenalotto prize. The offices of SuperEnalotto will check this documentation so that you can claim it.
Understanding Lump-sum and Annuity
Lump-sum and Annuity are the payout modalities that winners of some lottery games can choose when claiming prizes. Although this modality is not available on SuperEnalotto prize claiming, both possibilities ensure the payouts and offer different benefits for the winners.
Can you count on customer support?
If you are in need of some assistance, you can access the official website SuperEnalotto.com and go to the Frequently Asked Questions section to see if they have the answers to your questions.
If you cannot find what you are looking for there, you can always contact them through their official email address.
It is crucial to be aware of possible scammers. So be very careful when giving information through email, phone, or social media. There is a page on their official website that explains the most common scams using the lottery name.
Their easy-to-use website can provide you with answers to many questions in different languages. Some of them are:
How to claim your prize;
What to do if you lost your ticket; and,
How to play online.
What you need to know about taxes on SuperEnalotto prizes
According to Italian law when talking about taxes, winners receive their prizes with the taxes already removed.
Winnings up to €100 are not taxable under the law. However, the amounts between €100 and €500 receive a fixed tax amount. Winnings of more than €500 are taxed in 12% of the total amount.
In exchange, SuperEnalotto will provide the winner with a tax certificate meaning proper payment.
If you are an Indian player and win, the rewards can be subjected to taxes too. It will depend on the tax laws of your home country aside from the taxes that will be incurred in Italy.
Interesting facts about SuperEnalotto in Italy
Although the SuperEnalotto lottery game has its origins traced to the 1950s, when then, was called Enalotto, it was not until 1997 that the company Sisal changed the format of the game to better attend to the public's needs.
Until 2009, the draws happened by taking one draw number from each participating city, respectively: Bari, Florence, Milan, Naples, Palermo, Rome, and Venice (representing the Jolly number).
The problem in this format was that sometimes the number was duplicated, once the numbers could be the same in different cities.
This means that it would be impossible to win the jackpot if that happened. To prevent this, Sisal changed the lottery game configuration. Now draws are centralized and take place in Rome on the abovementioned time and days.
Another interesting fact about SuperEnalotto, according to Wikipedia's page, is that after more than 08 months of rollovers, the largest single-ticket jackpot up-to-date is worth €177.7 million ($248 million). The prize was won by a syndicate of 70 winners on October 30, 2010. This is the biggest payout in dollars and the second biggest in euro.
Still, according to Wikipedia, the biggest jackpot in euros was won in August 2019, reaching €209,160,441.
Now that you know everything about SuperEnalloto, it's time to get to the action and start playing!