German Lotto 6 aus 49
There's no better lotto in Germany than the very well-known Lotto 6 aus 49, and that's the pure and unadulterated truth! Why is this German lottery so popular?
Keep reading and find out the advantages of lottery prizes, chances to win, affordable prices, and more… that only the lotto 6 aus 49 live can provide! Chances are, you'll become a fan!
The Lotto 6 aus 49 was founded in 1955 and has become ever since the winner in German lottery statistics and results. No other has produced more millionaires in the country!
The best part is that you can get a ticket for a very cheap price. And the jackpot is always at least ONE MILLION!
Bet you're interested in how it works now! Let's find out!
How does the German lottery 6 aus 49 work?
To understand how the Lotto 6 aus 49 works, pay attention to the name; it explains the basic rule of the game!
The lottery rules are pretty much the same as in the Eurojackpot lotto. To play German Lotto you need to choose 6 numbers from 1 to 49. The 7-th number is predetermined as the last nuber of the ticket.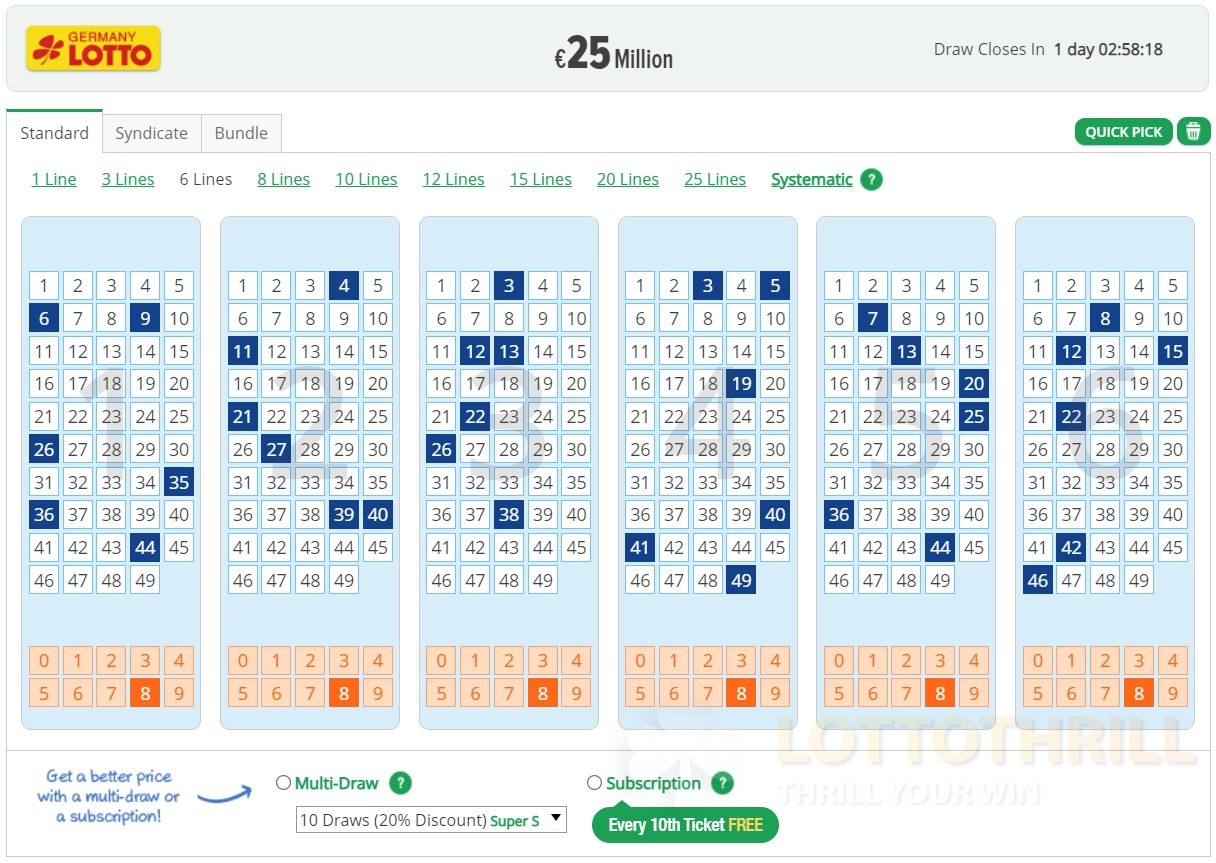 For actually winning this jackpot, you need some extra luck: a 7th number must coincide too.
This 7th number will be your ticket to the German Lottery jackpot.
How big the German lotto jackpot is and what are the odds to win?
Didn't we say it was at least €1.000.000? The biggest jackpot has been more than €46.000.000!
As in any lottery, chances have a random factor. But, you can find some specialized websites with the most common numbers and odds calculators…
The standard odds for the biggest prizes are
Jackpot(6+1) 1 in 139.838.160
Second (6) 1 in 15.537.573
Play it smart and make your best move with these German lottery statistics. Don't miss the chance to win with Lotto 6 aus 49! But first, let's get a better overview of the rules of lotto 6 aus 49.
What's the value of a German Lottery ticket?
The true price of the ticket is just €1. However, there may be some extra fees depending on your retailer. Also, on some websites, you can play a double Jackpot set for an additional cost.
Any other raffle or extra tier are cost extra:
Spiel77 costs +€1
GlücksSpirale (The Luck Spiral) costs + €5
If you decide to play online on one of the lottery sites like Lottoland, one line costs €1.20 (₹96.00 crores).
German lottery rules
To play this German lottery, players just need to follow these steps:
How to play? Go to your favorite online or offline lottery house and choose 6 numbers of your preference or hit the autopick button to generate a 6-number line out of a lot of 49 numbers.
How to buy? After you pay for the ticket, choose -or receive from the retailer -an extension number from 0-9. Consider that you may get charged a transaction fee from your retailer.
How to know the results? Be attentive to German lotto 6aus49 results and winning numbers on:

Wednesday 06:25 pm
Saturday 07:25 pm

How to win 1st prize? Match the 6 numbers on the You must matchthe Super Number too if you aim to win the jackpot.
Can you win other prizes? If you don't match the Super Number, you can still win 2nd prize, which is one the biggest in the world too!
There're also other raffles and extra games to participate in.
NOTE:  the Super Number is pre-determined as the last numbers on your ticket.
How to check German Lottery Results?
The official results of German Lotto are known after the draw. They are published on official website of the lottery.
Official website
The lottery store you bought your tickets
Broadcast on German ARD TV
If you can't attend any of the televised draws, you can always access the German lottery official website:
Other gameplays in the German Lottery and their odds
In the German lottery gameplay, you can also play other tiers and win smaller -but still substantial- prizes.
The games and odds are:
5# and super number: 1 in 542,008
5#: 1 in 60,223
4# and super number: 1 in 10,324
4#: 1 in 1,147
3# and super number: 1 in 567
3#: 1 in 63
2# super number: 1 in 76
Game of 77
Super six
"Glücksspirale (The Luck Spiral)"
Advantages and disadvantages of Lotto 6 aus 49
There's a reason why the Lottery of Germany is so renowned! The Lotto 6 aus 49 presents many advantages for its players:
Benefits of German Lottery
Cheap price for the big jackpot
Easy to play Accessible anywhere in the world
7 tiers including a jackpot
Big prizes in each tier
Lotto 6 aus 49has been making dozens of millionaire every year.
Disadvantages of German Lottery
The biggest jackpot needs 7 numbers instead of just the 6 outof 49 (1 to 139 million)
If you win the jackpot playing with a reqal ticket, you need to visit Germany to get the prize.
As you can see, playing the Lotto 6 aus 49 is the advantages over scale the cons.
How to play German Lotto 6 aus 49 from India?
When you hear that German lottery prizes are the biggest among European lotteries, you may dream about being one of them…
Well, good news! Even from India, it's really easy to play the German Lottery whenever you want!
You just need to access resellers' websites such as LottoSmile to purchase your tickets. You will pay a bit more than 1 euro per line, because the companies add a transaction fee to the original cost. But you can play online whenever you are.
How to Get Winnings and what taxes you have to pay?
If you're an experienced lotto player, you probably think about how you will receive your prize and how much tax from winnings you have to pay.
Those are good questions to ask, and the answers will make you happy!
As it is simpler, let's begin with the second question; the taxes.
The good news is that the German lottery is 100% tax-free! So enjoy your full prize.
There are few options how to claim your prize
If you play online with a real ticket:
Small prizes (regularly under $1,000) are credited to your account on the site you have played.
Large prizes (up to $50.000) can be credited on you website accout or transferred to your bank account.
Jackpot. Usually jackpot winners have to collect the pize money peronally in Germany. Original ticket is kept by the representative of the company where you bought it. Upon arrival in Germany you will be met by a representative of the company. He will give you the winning ticket and support you until the prize is received.
If you place bets on German Lotto, all the winnings are credited to you website account. Then you decide to continue playing or withdraw the money to your bank card or e-wallet.
The German Lotto 6 aus 49 is easy to play and the best chance to change your life with lucky numbers!