Lotto UK
Lotto UK, also known as Lotto 6 out of 49, is one of the most popular lottery games in the world. It was first introduced in 1994 and has been growing rapidly ever since.
More and more people join the National Lottery on a regular basis, as its prizes are far more than just attractive. Millions of Dollars are to be won twice a week and can make a Millionaire out of everyone with a little bit of luck.
Lotto UK draws are held in the UK on Wednesday evenings at 19:45, and Saturday nights at 20:00 (GMT). So you can see the Lotto UK results in India on Thursday and Sunday mornings. Moreover, because it is online, it can be played from India and many other countries around the world.
This blog post will cover all aspects of Lotto UK including how it works, how to win, what kind of prizes you can get, if Lotto UK is legal in India, and more!
History of Lotto UK
The UK National Lottery is one of the super iconic and high profile lotteries in Europe, bringing happiness to players on a national scale.
One might think that such an important organization would have been around for centuries before its 1994 inception date, but surprisingly it was not until the Camelot Group won the franchise bid from England's government.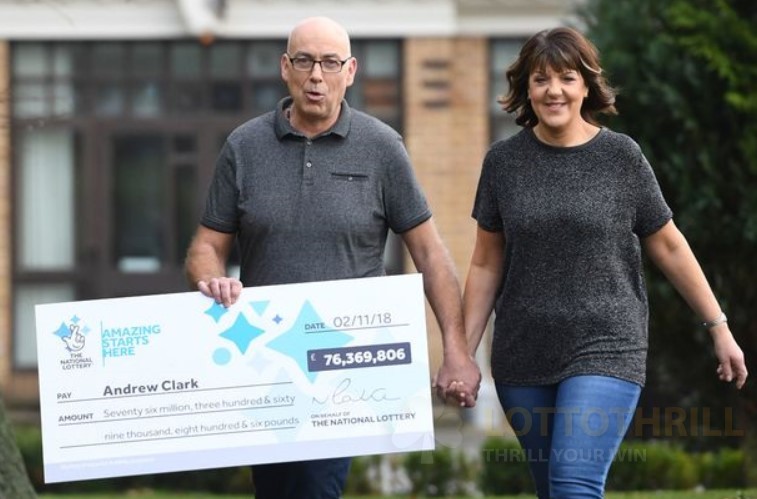 The first Lottery draw happened on November 19, 1994. Since then the UK Lotto has become one of the most played games ever since and has been extremely popular for most of its existence. As a result, some people even play it from abroad.
In more recent years however, the game's popularity in other countries not only attracted attention. It also resulted to increasing foreign participation within the lottery draw.
The UK Lottery was already quite famous before last year; about 15-45 million tickets are purchased each draw across all parts of Britain (even though many Britons buy their ticket overseas).
The biggest record
Colin and Chris Weir of Ayrshire were the luckiest people in Scotland when they won £161.6 million ($211.7m) worth of lottery winnings. This is currently the biggest prize ever claimed by a UK player who decided to be public about their victory as well.
Is it legal in India?
Yes, it is!
In India each state decides, if its citizens are eligible to play the national lottery. Out of 29 states only 13 have legalized the game so far, but there are more to come.
But because Lotto UK is available online and can be played from anywhere in the world, it is feasible from every place in India and therefore legal.
Lotto UK tickets cannot be bought from conventional retailers and only through online lotteries. This way your tickets and your money is stored securely in your account and cannot be lost.
How to play Lotto UK from India
UK Lotto: The latest and greatest way to take your chances at winning big! Here's how you can get started with UK lotto from the comfort of your own home.
Lotto UK is played twice a week: Wednesday at 19:45 & Saturday at 20:00 (GMT).
Therefore, in India the Lotto results UK will be shown Thursday & Sunday mornings.
Here are the ground rules:
You choose 6 numbers between 1 and 59. You can play up to 7 lines on one lotto slip
Then, on the day of draw, 6 numbers (1-59) will be selected in a randomly generated draw
An additional number will be drawn as a Bonus
If you match all 6 numbers out of the draw, you hit the big jackpot. Even if you only match 5 numbers + the Bonus number you can win the second biggest price.
Guidelines: How to play UK Lotto online
Buy tickets online through visiting the official website or use other lottery sites, such as TheLotter and Lottoland.
Choose how many tickets you'd like to buy
Decide which numbers you want to play with and put different combinations in each line to increase your chances
Often these lottery websites require a "sign up". Therefore make sure you create an account with a valid email address to receive information about recent draws
Buy the tickets with your credit card. Some sites also offer PayPal transactions or accept debit cards
After the draws on Wednesday & Saturday you will be notified about the Lotto results UK through your account and will receive an email about your winnings.
If your numbers won, the money will be sent to your account after they are received from the official site of Lotto UK. You can then withdraw the stored money with your selected payment method
How to check the Lotto results UK
There are different ways to check the Lotto UK results online and to find out if you're the lucky one:
The official site of Lotto UK, the National Lottery, provides you here with an App for playing and checking upon draws. Simply install it in the App Store on your phone and sign up from anywhere in the world. This way you can check the Lotto results UK immediately
Go on the official website and check the results here. Every Wednesday & Saturday around 21:30 (GMT) the results will be shown online
You can watch the UK lotto draw online on YouTube if you join the "The National Lottery" channel. On the other hand, you simply visit and follow the game on the website itself
Nevertheless, don't worry. If you don't have time to watch the UK Lotto results today or tonight you will be informed about won prizes via the lottery site you're signed up to.
Even while you're offline you can win amazing prizes!
As soon as you win something within the draw, the winnings will be transferred to your lotto site profile and a notification email will be sent to you. You can find all the information regarding how to withdraw the money to your bank account in there.
Costs for playing Lotto UK
Tickets for the UK Lottery have been set to £2 per line (aka one selection of 6 numbers). In total you can buy 10 slips at a time, each of them consists of 7 lines. Furthermore you can also choose for how many weeks you'd like to play and can choose the numbers and also pay in advantage.
But what about Taxes?
Lotto UK prizes are not subject to tax at the source, meaning British lottery winners do not have to pay taxes on their prize. However, in countries other than the UK or Ireland (where you may be liable for income tax) it can be different. If your winnings exceed a certain amount then it is advisable that you consult with local authorities about paying possible taxes before receiving them.
When playing online Lotto UK from outside England though there's often more work required. This is because some higher-level earnings require taxation filings and legal documents. so make sure to ask what kind of responsibilities come along with any big wins.
Prizes and the odds of winning
What can be won
Lotto UK is a popular and exciting game that has many bonuses.
The minimum jackpot starts at £2 million on Wednesday, and at £3.8 million on Saturday night. Depending on the participation rate of the week before and other circumstances, the jackpot can sometimes rise up to the 5-digit-level and exceed normal standards.
To win the jackpot you have to match all 6 numbers in the Lotto results. But there are also fixed prizes for people who match less than that and still more than one number. You can find them below.
The odds of winning
The Lotto UK jackpot is a dream for many people.
There's an about 1 in 45 million chance of winning which, compared to other international lotteries, is pretty decent.
Let us have a look at the statistics and the lotto price breakdown:
| | | |
| --- | --- | --- |
| 6 | Jackpot | 1 : 45,057, 474 |
| 5 plus Bonus | £1,000,000 | 1 : 7,509,579 |
| 5 | £1,750 | 1 : 144,415 |
| 4 | £140 | 1 : 2,180 |
| 3 | £30 | 1 : 96 |
| 2 | Free Lucky Dip | 1 : 10 |
A Lucky so called "Lucky Dip" is an option you can choose when deciding which numbers to play with. So instead of choosing them manually you can easily activate the Lucky Dip and your ticket then will be filled out with randomly selected numbers by the lottery generator.
If you play one draw and match two of the selected numbers in the jackpot you will win a free Lucky Dip. So in your Next play you can add one line of numbers, which will already be  randomly chosen.
Must be Won
A "Must be Won" draw occurs, when the Lotto UK jackpot has not been won for five consecutive days, in which further draws have happened.
On the sixth day, so in the 6th draw, the amount of the whole jackpot can be won if you match all six numbers on this day.
But if this doesn't happen, a so called "roll down" is made. Here the money is split between all the winners who match with 2 or more numbers, so thousands of people can expect to win a prize.
Additionally, a small percentage of the jackpot is added on top of the actual price when a rolldown takes place. In this table you can see the summarized prices
| | | |
| --- | --- | --- |
| Matched Numbers | Normal Price | Rolldown Price |
| 5 plus Bonus | £1,000,000 | £1,100,000 |
| 5 | £1,750 | £9,000 |
| 4 | £140 | £300 |
| 3 | £30 | £100 |
| 2 | Free Lucky Dip | £5 plus free Lucky Dip |
Next to the Lucky Dip, all winners who match 2 numbers out of 6 can win an additional amount of £5.
Good luck out there on this exciting new adventure into online lotteries!