LottoGo Review
The lottery betting website LottoGo is fast becoming one of the most popular platforms for placing bets in international lotteries.
But is it safe? Is it legitimate? Or, is LottoGo a scam?
If you're interested in placing a bet or playing in the platform's online casino, then here's everything you need to know about LottoGo.
What is LottoGo?
Licensed under the Gaming Control Act 1993 NT and regulated by the Northern Territory Government, LottoGo is a website that allows Australians to buy tickets from more than 12 different international lotteries, such as the United States Powerball, the EuroMillions, and the United Kingdom Lotto.
Headquartered in the Isle of Man and with offices in London, Jersey, and Australia, LottoGo has more than a million members worldwide. Every single one of them can access whatever game they desire to join, whether it be slots, scratchcards, casinos, or bingo. They can even participate in the platform's instant-win activities, including Starburst, European Roulette, and Joker's Jewels.
Besides lotteries and these games, LottoGo members can also take advantage of exclusive discounts, offers, and promos. Thanks to this, the platform is quickly becoming the go-to website for those who want to try their luck at winning billion-dollar jackpots.
LottoGo was formerly known as the "World Lottery Club," although this was rebranded in 2018 and has since been rebranded. Today, the platform is run by the online gambling company Annexio Limited, which is based in the Isle of Man.
How Does LottoGo Work?
As a lottery betting website, LottoGo functions the same way that platforms similar to it work. For instance, members must take the following steps when participating in one of its hosted games:
After logging in to your account, choose from the website's available activities
Pick your numbers either manually or via the platform's system
Choose the number of draws that you want to play
After confirming your order, input your payment details
Sit back, relax, and wait to see if you are the lucky winner!
If you are the lucky winner in whatever game you have entered in, then LottoGo collects the prize money on your behalf. However, note that the total you will receive will already have the relevant taxes and other service fees deducted from it.
The platform will also convert the prize money won into Australian Dollars (AUD) before releasing it to you.
Also, keep in mind that any prize money will only be given to you if your LottoGo account is verified and in line with the platform's rules. Otherwise, you might be found in violation of not only the website's rules but that of the international lottery that you joined, as well.
Is LottoGo Legal?
Based on online LottoGo reviews, the platform itself is completely legal. Not only is it licensed, but several regulatory bodies, including the Isle of Man Gambling Supervision Commission, the Jersey Gambling Commission, and the United Kingdom Gambling Commission, also govern it.
LottoGo is a fully licensed gaming platform and prides itself on providing members with a secure gaming experience. Thus, the website is legit.
Is LottoGo Legal in India?
Laws concerning lottery regulations in India are somewhat confusing, which is why the legality of using online lottery companies like LottoGo exists in a "gray area."
In India, physical lotteries can only be played in the 13 states where they are legalized, which includes Punjab, Goa, Sikkim, and West Bengal. Other than these places, residents are not allowed to participate in any other physical lotteries.
However, Indians may take part in international online lotteries, as long as they make use of a platform that is based outside the country. This means that platforms like LottoGo are absolutely legal.
What are the Rules of LottoGo?
On its website, LottoGo makes it clear that they abide by several strict policies, including a "Promotional Terms and Conditions," an "Acceptable Use Policy," an "Anti-Spam Policy," and a "Responsible Gaming Policy."
Included in these are the standard gambling rules; for instance, only those over the age of 18 are allowed to use the platform to join international lotteries. Their accounts must also be verified; otherwise, they will not be able to access any prize money that they win. More often than not, LottoGo asks members for proof of their age before allowing them to place bets.
Other rules that LottoGo enforces upon members are the following:
They must be legally capable of entering into binding contracts
They are not a resident of the United States of America
They must not be located in a country that does not permit the use of the platform's service
They must be in full compliance with their local, national, or state laws
Their primary source of income must not be gambling, gaming, or betting
Those discovered in breach of the platform's rules will have several actions taken against them, including the forfeiture of their winnings and the closing down of their account. LottoGo may also report such individuals to the relevant authorities.
What Does LottoGo Provide? What Can Members Do?
In the simplest of terms, LottoGo provides betting and gaming services, allowing people across the world to take part in numerous online international lotteries, no matter their location.
One of the things that members can do on LottoGo is take part in the many video slots available on the platform's online casino. This includes well-known games like Wolf Gold, Big Bad Wolf, Thunder Struck, and Star Raiders. There are also other table's games, as well, such as Blackjack and Roulette, both the European and American versions.
However, online international lotteries are LottoGo's main product. The platform mimics the real-life buying of tickets, although it gives members access to lotteries located outside their place of residence, some of which carry massive prizes. For instance, jackpots in the United States Powerball often go up into the hundreds of millions of dollars.
LottoGo lotteries:
Powerball
Cash4Life
Daily Million
Euro Millions
UK Lotto
Polish Lotto
El Gordo de la Primitiva
Swedish Lotto
Super Ena Lotto
EuroJackpot
Super Sunday
The Monday Million
French Lotto
Germany 6 aus 49
El Gordo de Navidad
El Nino
What are the Payment Methods on LottoGo?
To pay for bets, members can use debit cards and credit cards from either Visa or Mastercard. Those with digital wallets, such as Skrill and Neteller, can make use of the platform's services, as well. Additionally, they can utilize PayPal, Google Play, and Apple Pay to deposit money into their accounts.
Note that members residing in the United Kingdom cannot top up their accounts with a credit card. They may only do so with a debit card.
It is also important to keep in mind that LottoGo places a cap of £10,000 on monthly deposits. Members who want to add more than this amount to their accounts must contact the website's staff directly.
On the other hand, members are only able to withdraw amounts of £10 and above. The money may take between three to five business days before it shows up in their bank account, though.
How are Lotteries Played on LottoGo?
LottoGo allows members to take part in online international lotteries through several methods.
Lottery Syndicates
Members can participate in 15 lottery syndicates to increase their chances of taking home the jackpot. This means that they can buy shares in "alliances."
For example, the Powerball syndicate may have 50 shares up for grabs so that players can join in a ten-line bet. The more shares that one person purchases, then the bigger their prize will be if the syndicate either wins a prize or hits the coveted Powerball jackpot. The current price for buying a Powerball syndicate share is £3.5.
The UK Lottery syndicate also offers 50 shares for the chance to join in a ten-line bet, with each share costing £3.00. This means that if a jackpot worth £2 million is hit, then a person with one share will take home about £40,000. On the other hand, those with two shares will earn around £80,000.
Almost every lottery that LottoGo offers has a syndicate, enabling members to boost their chances of winning the lotteries. For the majority of members, this is an incredibly convenient way to make easy money.
Lottery Subscriptions
On LottoGo, members can opt for a subscription so that they can automatically place bets on their favorite international lotteries. Going down this route will also earn them a free lottery ticket – a massive perk that has enticed many to choose the platform over its competitors.
Lottery Single-Line Bets
As with all other lottery betting platforms, LottoGo allows players to place single-line bets on their preferred international lotteries.
New members may even be given free bets to place on several lotteries, including MegaMillions and the United States Powerball. However, this is hinged on the current set of promotions and exclusive deals that LottoGo is offering.
What Interactive Games are Available on LottoGo?
In addition to online international lotteries, LottoGo also offers members access to 42 virtual scratch cards with prizes ranging from £250 to as high as £182,500. Naturally, those with higher prizes will have significantly longer odds.
The LottoGo platform also hosts 84 other online games, including Blackjack and slots. There are at least 65 slot machines on the website, each with a unique theme and a demo that players can use to familiarize themselves with its mechanics. New members are also given free spins on their chosen game, which is definitely an amazing perk.
Virtual slot games offered by LottoGo include Ancient Egypt, Firework Master, Sticky Bandits, Tarzan, and Queen of Gold. This extensive range means that there will be something to suit every member's preferences, no matter what they are!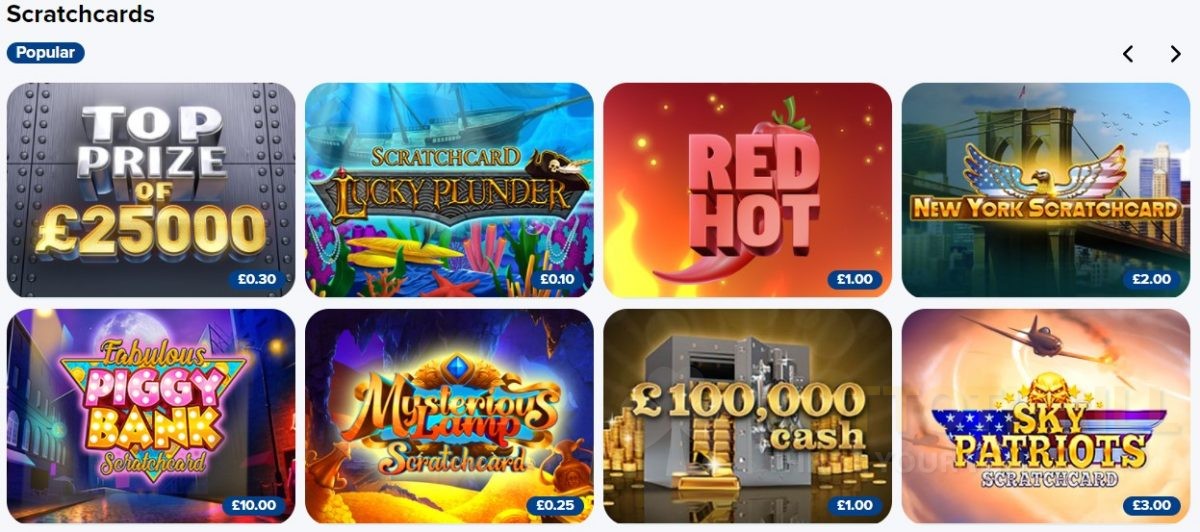 Besides virtual slot games and Blackjack, Roulette and Keno may also be played on the LottoGo online casino. Each of them features a demo, so players can get a feel before investing their hard-earned money into it.
What Bonuses are Available on LottoGo?
In addition to their various online games and international lotteries, LottoGo is also known for the many exclusive bonuses that they offer members.
For example, their "Welcome Package" comes with a free bet for any lottery draw, as well as 20 free scratch cards.
The bonuses and promotions offered by LottoGo are constantly changing. With that, be sure to check the website from time to time to make sure that you're taking advantage of the latest deals!
Are LottoGo's Mobile Apps Worth It?
Fortunately, the LottoGo website is optimized for a seamless mobile experience, which means that members can pull it up on their smartphone browser and bet on their favorite online international lottery.
However, the platform also has a dedicated LottoGo app that can be downloaded from the Apple App Store free of charge. On the other hand, those with Android devices can download the app directly from the LottoGo website.
The LottoGo mobile app is beautifully designed with a friendly and intuitive user interface. With this, members will have access to more than 400 international lotteries, games, and scratch cards wherever and whenever they want.
What is LottoGo's Customer Support Like?
LottoGo provides members with many different ways to reach out to their team. For instance, there is a live chat feature on the website that enables them to communicate with a customer support agent instantly and directly. However, his function is only available between 9 a.m. and 5 p.m.
After hours, members may opt for a contact form, which they can access by using the live chat feature. They may also opt to send an email to support@lottogo.com if they have any questions, concerns, or even suggestions.
The platform's customer service is very fast, which means that pressing and urgent concerns are resolved almost immediately. LottoGo also has an extremely detailed FAQ page that members can browse through for answers to their questions.
Has Anyone Won on LottoGo?
LottoGo was launched in 2012, and it has seen its fair share of winners since then. For instance, an anonymous winner took home more than $1.5 million after hitting the jackpot at the US Powerball while a man named Peter won over $855,000 from the EuroMillions.
Another lucky winner was Julian Munro, who took home a cash prize amounting to more than $200,000 after hitting the right set of numbers at the Spanish El Gordo de Navidad lottery.
Thanks to LottoGo, the world's biggest jackpots are right at your fingertips. Why not see if you can be counted among these lucky winners too?
The Pros and Cons of LottoGo
As appealing as LottoGo may be, it still has a number of advantages and disadvantages. Here's a quick breakdown of them:
Pros:
The website's interface is user-friendly, easy to navigate, and optimized for mobile use.
The platform provides members with a constantly changing set of bonuses and exclusive promotions.
LottoGo has multiple language options besides English. These include German, Polish, Russian, and English Indian.
The availability of a mobile app is undoubtedly convenient.
Cons:
Members may only pay through Visa, Mastercard, and digital wallets that support these two. LottoGo's limited payment methods are definitely one of its biggest disadvantages.
Live customer support is only available for a few hours each day.
Is LottoGo Worth It?
There may be room for improvement, such as more payment options and better customer support; however, there is no denying that LottoGo is one of the best lottery websites on the web.
Not only does it provide access to a wealth of online international lotteries, but also it is a home to a ton of interactive games and scratch cards. While there are disadvantages, these do not mean that LottoGo is not worth trying out.
Give LottoGo a shot today!