Brazilian Lottery
Brazilian lotteries are famous for their simple game play, fantastic odds, and ticket prices that are affordable. If you're trying to figure out how to play the lottery in Brazil, you've come to the perfect place!
About the Brazilian Lotto
The biggest lotteries operating in Brazil are produced by the government owned bank known as Caixa Econômica Federal. These lotteries help fund education, social security, sports, and other worthwhile causes through Brazil. CEF has been producing huge lotteries since 1961, 100 years after it was founded as a company!
The most notable lotteries in Brazil are the Mega-Sena, Quina, Dupla Sena, Lotofacil, and Dia de Sorte. Each game has slightly different rules, odds, and draw days! Games can be played for as low as $1 per ticket, though each game may vary!
You must be 18 years old or older to play. It is possible to purchase tickets online or at any lottery house in Brazil.
Mega-Sena
Formed in 1996, the Mega-Sena lottery is the biggest Brazilian lotto and is one of the most popular. Its name comes from the huge jackpot that begins at $2 million and continues to rollover until it is claimed.
Mega-Sena is one of the few lotteries that has NO prize maximum, so the jackpot continues to raise every single draw until someone wins it. This often results in some of the biggest jackpots in the world!
Interested in winning big? To play the Mega-Sena, simply pick somewhere between 6 and 15 numbers that fall between 1 and 60. The more numbers you pick, the more plays you get and the more prizes you are eligible to win. 6 numbers give you one play, 15 give you 5,005 plays.
The Mega-Sena is drawn on Wednesday and Saturday nights at 8:00 PM Brasilia Time.
Quina
If you're looking for a game with more drawings and more chances to win, Quina might be the lotto game for you!
Though the $500,000 jackpot that it starts out with is much smaller than Mega-Sena, the money rolls over until a winner comes along so it continues to rise every draw. To play, simply choose 5 numbers between 1 and 80. The more numbers, the better your chances!
There are drawings every night from Monday to Saturday for Quina, excluding national holidays. They start at 8:00 PM Brasilia Time!
Dupla Sena
Double draw, anyone? Dupla Sena players get 2 draws for the price of one, as their ticket price includes two totally separate draws. The odds of winning are great, which makes this a super popular game!
To play Dupla Sena, pick 6 numbers between 1 and 50! Jackpots begin at $300,000 and continue to rollover until there is a winner.
Dupla Sena drawings take place on Tuesdays, Thursdays, and Saturdays and have back to back drawings on all of these days. They begin at 8:00 PM Brasilia Time!
Lotofacil
Lotofacil is as simple as it gets. In fact, the name Lotofacil actually translates to "easy lotto"!
To play, pick 15 numbers between 1 and 25! Matching all of them will win you the jackpot, so pick wisely! The jackpot begins at $2 million.
Lotofacil lottery drawings take place every Monday, Wednesday, and Friday night at 8:00 PM Brasilia Time.
Dia de Sorte
The newest Brazilian lottery Dia de Sorte is a fun game with relatively high odds! Dia de Sorte translates to Lucky Day, let's hope it is yours!
Playing this Brazilian lottery game is simple, just pick 7 numbers between 1 and 31 and one month to be your Lucky Month.
Drawings for Dia de Sorte take place on Tuesdays, Thursdays, and Saturdays at 8:00 PM Brasilia Time.
Odds and Draw Times
That was a LOT of information, so let's get some tables going to make it a bit more simplified!
The odds for all of the Brazilian lotteries are great, but some are obviously better than others. If you're looking for the biggest jackpot possible, Mega-Sena and Quina are the best options for you. If you're looking for good odds, Lotofacil or Dupla Sena are great games!
It's all about what your playing style is.
Here are the odds of winning each individual lottery game, from the odds of winning the jackpot to the odds of winning the lowest prize possible.
Draw times can be complicated to keep up with, so be sure to add these into your calendar so that you never miss one! After all, you never know when you may be the lucky winner!
All times shown are in Brasilia Time.
| | | | | | |
| --- | --- | --- | --- | --- | --- |
| | Mega Sena | Quina | Dupla Sena | Lotofacil | Dia de Sorte |
| Draw days | Wednesday, Saturday | from Monday to Saturday | Tuesday, Thursday, Saturday | Monday, Wednesday, Friday | Tuesday, Thursday, Saturday |
| Odds to win the jackpot | 1 in 50,063,860 | 1 in 24,040,016 | 1 in 15,890,700 | 1 in 3,268,760 | 1 in 2,629,575 |
| Overall chances to win | 1 in 2,332 | 1 in 36 | 1 in 60 | 1 in 11 | 1 in 12 |
| Record Jackpot | R$263.2 million/ €48.1 million | R$152.58 million/ €24.8 million | R$25.5 million/ €4.2 million | R$100 million/€16.3 million | R$1 million/€163.000 |
| Minimal prize | R$2.3 million/€375.000 | R$500.000/€81.000 | R$300.000/€49.000 | R$1.5 million/€244.000 | R$300.000/€49.000 |
Past Winners of the Brazilian Lottery
Unlike other countries, Brazil keeps the winners of their lotteries confidential. The only thing announced about them is where they bought their winning ticket. Everything else is a secret, which is good for privacy and safety reasons but bad for those of us who want to know more about the people winning millions!
One of the self-proclaimed winners of the Mega-Sena lottery in Brazil was murdered after his 2005 win of $52 million. Renne Senna's wife, Adriana Almeida, was the primary suspect for the murder but was found innocent in 2011. It still remains a mystery but furthers Brazil's push to keep winners confidential.
The largest jackpot ever won within Brazil was $289.4 million in April 2019. It was won via the Mega-Sena lottery.
How to Play the Brazilian Lottery in India
If you're interested in playing the Brazilian lottery but you live in India, you have a few options.
Visit Brazil. You get a vacation out of it and if you're lucky, you'll be coming home with a ton of money!
Play on a lottery site that sells paper tickets. Some examples are Thelotter, Giantlottos, and Agentlotto.
Place lottery bets online via websites like Lotto247, LottoLand, etc.
With the high odds and high prizes that come from these lotteries, it's more than worth it to play from India!
How to Play the Brazil Lotto Online
Utilizing websites like Lotto247, LottoLand, LottoGo etc. is a great way to play the Brazilian lottery from the comfort of your own home!
Visit the online lottery site of your choice.
 Choose the numbers you'd like to play with.
 Follow the website's instructions and input your numbers.
 Enter the necessary identifying information, including billing information.
 Confirm everything and ensure that your numbers went through.
 Wait for the draw and on draw day, check to see if you won.
 If you are a winner, follow the website's instructions to withdraw your winnings!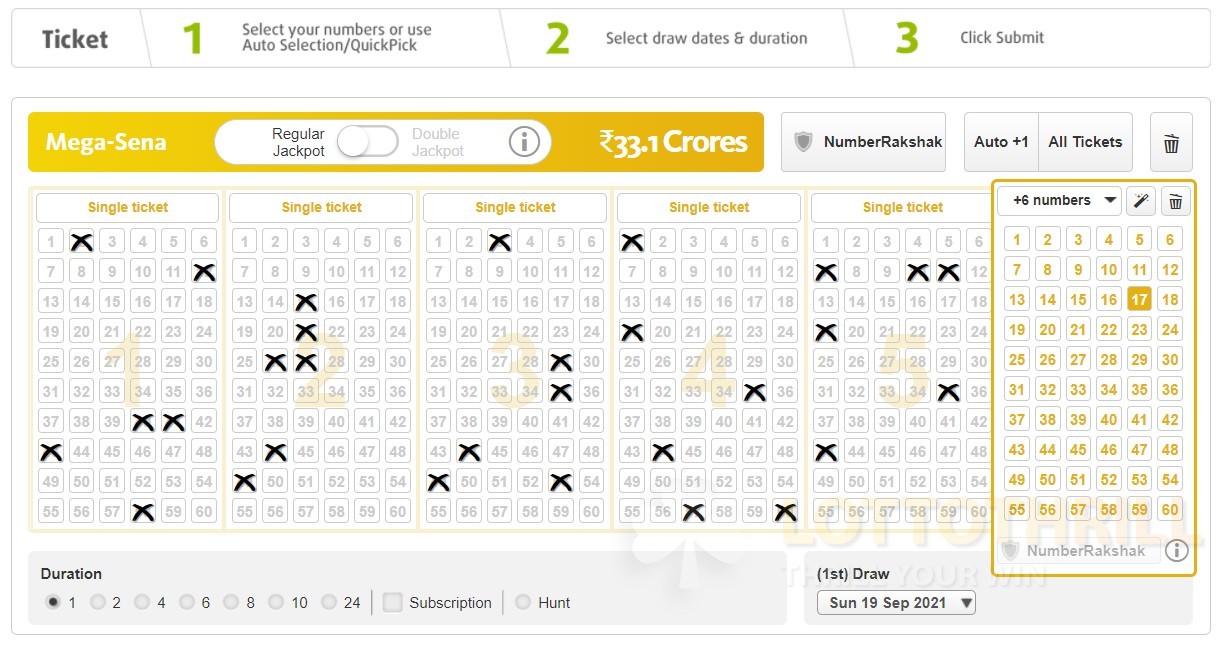 It's as simple as that!
How to Claim Your Winnings
You won the lottery, now what?
It's important to first note that all winnings are taxable by 13.8%. This won't affect you because the advertised prize amount is AFTER taxes. What you see is what you get!
Any prize up to $1,787.77 can be claimed from a lottery house. Anything above must be claimed from the actual Caixa Econômica Federal Bank. All prizes must be claimed within 90 days.
Contact Information for the Brazilian Lottery
Have any questions? To contact the Brazilian Lottery, utilize their customer care information below or find them on social media.
Telephone: 55 61 3414 9816
Fax: 55 61 3414 9732
E Mail: sualo@caixa.gov.br
Head Office:  SBS Quadra 4 Lotes 3 E 4, Edificio Sede 21 Andar, Brasilia, DF